Wiki Targeted (Entertainment)
Play Sound
Joel Tennyson is Max's nephew and a member of the Plumbers.
Appearance
Joel is an average looking man, with a good build. He is rather young and has black hair. His normal attire consists of a short-sleeved dark green T-shirt, blue pants and a brown belt.
During the wedding ceremony, he wore a black tuxedo.
Personality
As a Plumber, Joel displays honorable and brave qualities. Despite being at war with the species, he fell in love with a Lenopan, and hoped to create a truce between the two sides.
History
Background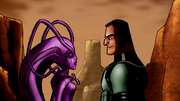 Joel became a Plumber when he grew up. He fought in a war between the Plumbers and the Lenopans, aliens who can shape-shift. During the conflict, he met and developed a relationship with a Lenopan named Camille Mann, and they became engaged, in hopes of reaching a truce between the two sides. Camille's parents did not like this, and neither did Joel's.
Ben 10
In Big Fat Alien Wedding, Joel prepares for the wedding, but Camille's parents attacked the wedding along with Camille's Ex-Boyfriend. But Heatblast, Gwen's spells and Grandpa Max's weapons defeated them. Joel's parents also realized how unfairly they treated Camille. Joel and Camille were then happily married.
Powers and Abilities
Being a regular human, he has no superpowers. He has however, plumber training to his merit.
Equipment
He possesses a standard issue Plumber Suit.
Appearances
Ben 10
Season 4
Notes