Jetray is the Omnitrix's DNA sample of an Aerophibian from the planet Aeropela.
Appearance
Jetray is a red, humanoid manta ray-like alien with green eyes, black outlines on his face, orange horns extending from his nose, gills underneath his arms, yellow patagia which he uses to fly and glide through water, black wristbands, and two black stripes with a yellow outline coming down from his shoulders to the Omnitrix symbol on his chest.
In Tales from the Omnitrix, he has duller colors and larger limbs.
Powers and Abilities
Jetray can fly at supersonic speeds, being able to maneuver through the air with little to no flapping with ease.
Jetray can fire green neuroshock blasts from his eyes and tail. In the case of the latter, he can charge his blasts in a way that allows him to leave a green trail when flying.[1]
Jetray is highly adaptable, being able to breath underwater and survive in the vacuum of space.[2][DR 1]
Jetray has enhanced strength, as he can fly while carrying Gwen and Maurice on his back.[3]
Jetray's strength extends to his feet, which are prehensile, as he was able to carry Mary Jo Fourfeathers while flying.[4]
In addition to his feet, his tail is also prehensile, as he was able to carry Steam Smythe while flying.[5]
Weaknesses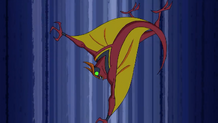 Because he is one of Ben's more recently-discovered aliens, Jetray may have some level of difficulty flying straight.[1]
History
Ben 10
Appearances
Ben 10
Season 4
Etymology
Jetray's name is a portmanteau of a "jet", a fast aircraft vehicle, and "manta ray", the creature his appearance is based on. Additionally, he can fire neuroshock rays, adding to the "ray" part of his name.
Naming and Translations
| Language | Name | Origin |
| --- | --- | --- |
| Portuguese (Br) | Arraia-a-Jato | From arraia, ray; the "-a-Jato" is like "jet-powered" |
Trivia
References
Crew Statements
Cartoon Network
Community content is available under
CC-BY-SA
unless otherwise noted.