This article contains information on
of the franchise and is non-canon to the TV continuity.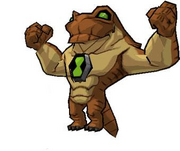 The Humungousaur Nano is a miniature version of Humungousaur that supports the player in FusionFall. This nano can be acquired by defeating Fusion Tetrax.
Appearance
It has Humungousaur's Alien Force and Ultimate Alien appearance.
Powers and Abilities
Saurian Snare - Snare/Cone
Humungousaur ensnares all enemies in the target area.
Giant Unleashed - Freedom/Self
The alien giant goes wild, saving you from the enemy's special attacks.
Ground Quake - Damage/Area
Humungousaur pounds the ground and damages all monsters in the area.
Community content is available under
CC-BY-SA
unless otherwise noted.