We're Getting Mutants in the MCU - The Loop
Play Sound
Characters and/or events in this article appear in official media of the franchise
but are non-canon to the TV continuity.
Hotdawg is the Omnitrix's DNA sample of an Oscarmayerian from the planet Grillus.[DR 1] He is a joke alien created for an online short.
Appearance
Hotdawg is an anthropomorphic hot dog with four-fingered hands and boot-like feet. He has red eyes, and a hot dog bun encases his body.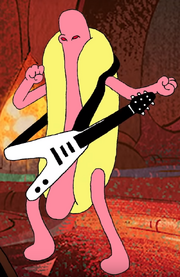 The third time he is used, he appears with a guitar.
Powers and Abilities
Hotdawg is only able to dance and play music.
Hotdawg is also able to gain a rock and roll guitar though it seems to be rather random.
Weaknesses
Hotdawg has very little control of himself.
History
Hotdawg first appeared in Rejected Ben 10: Vilgax Hot Dog Fail,[1] where he was used by Vilgax after he took the Omnitrix from Ben, he danced uncontrollably before reverting twice. After Vilgax transformed into him a third time, he had an electric guitar with a strap around his neck.
Appearances
By Vilgax
Trivia
Hotdawg doesn't have a visible Omnitrix symbol.
Hotdawg may be a reference to the Dancing Hot Dog Snapchat filter, which was very popular around the time this alien was introduced.
The name of this alien, his planet, and species were provided at request by Duncan Rouleau. He suspects this alien was created by a marketing team contracted by CN, as the core team working on the reboot was not involved.[DR 1]
His species name, Oscarmayerian, comes from Oscar Mayer, a company which produces processed meats.
References
Crew Statements
https://ben10.fandom.com/wiki/File:Hotdawg_Non-Cannon_Defnitive.png