Spider-Man: No Way Home Trailer Dropped - The Loop
Play Sound

This article belongs to an alternate dimension or timeline
General Hex is the future version of Hex.
Appearance
Hex mostly resembles his younger self except he wears the latter's formal attire from The Hex Factor. Additionally, unlike his younger self, he also wore his signature hood while wearing his suit.
Personality
Compared to his younger self, Hex is more heroic. He believes that there is no good and evil, only survival and extinction.
Compared to their relationship in the past,[1] Hex is on better terms with Kevin.
History
Hex first appears in Ben 10,010, where he informs President Gwen that the Xerge have overpowered their forces and are making their way towards Bellwood.
Powers and Abilities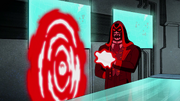 Hex is a powerful and highly skilled magician that can manipulate the forces of magic for many feats. These can range from levitation of himself and objects, projecting force blasts and defense barriers, scrying (to locate magical artifacts), control over matter and elemental forces, bringing inanimate objects to life, and teleportation.
Appearances
Ben 10
Season 5
Trivia
The idea of a heroic version of Hex reflects his Classic counterpart's portrayal in Ultimate Alien and Omniverse.
References
Kelly Turnbull