"
My Helix experiment was a success beyond my wildest dreams and a failure beyond my wildest nightmares.
"
The Helix was a powerful piece of Galvan technology created by Azmuth to bring life to a dead moon.
History
It was an experiment in hopes to make the moon habitable for colonization by the Galvans but went beyond what Azmuth had hoped for. It created an entire new species called the Galvanic Mechamorphs. It also created Malware by accident despite its success.
In Showdown: Part 2, Azmuth used the Helix to revive the Galvanic Mechamorphs that were destroyed along with Galvan B by Malware. Feedback absorbed energy from the Helix then fired the energy at Malware which transformed his body into a stone form.
Secondary Helix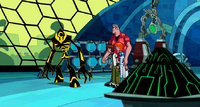 A secondary Helix was being worked on in the hopes of curing Malware. It had been stolen along with Albedo being kidnapped while still being incomplete. Unfortunately, it upgraded Malware into a far more dangerous form.
Appearances
Omniverse
Season 1
Season 2
References
Community content is available under
CC-BY-SA
unless otherwise noted.