Cobra Kai Season 4 - The Loop
Play Sound
Heatbat[merch 1] was originally a bat who was hit by Dr. Animo's ray charged by the cover of the Omnitrix and mutated with Pyronite DNA.
Appearance
Heatbat looks like a cross between a bat and a Pyronite. It has the body of a bat, but a Pyronites appearance such as the inner magma body and the yellow flames around the head.
History
Heatbat was a bat mutated by Dr. Animo when he stole the face plate of the Omnitrix. It attacked Ben, Gwen and Max and then Ben transforms into Diamond Matter. Diamond Matter tried to fight him off, but Heatbat grabbed and dropped him into the water. Heatbat headed back to their boat to attack, though Max splashed water into it. It flew away, and headed back to Animo. Heatbat later battled Heat Jaws along with the Mutant Frog, but both were defeated.
Powers and Abilities
Being part-Pyronite, Heatbat shares the same abilities as any other Pyronites.
Much like an ordinary Earth bat, Heatbat is capable of flight.
Weaknesses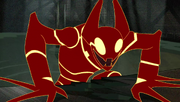 Being part-Pyronite, Heatbat shares the same weaknesses as any other Pyronites.
Appearances
Ben 10
Season 2
References
Merchandise