Wiki Targeted (Entertainment)
Play Sound
"
Heatblast and Ripjaws? Not the best combo.
"

– Ben after turning into Heat Jaws.
Heat Jaws is the combination of Heatblast and Ripjaws' DNA. He cannot be accessed unless the faceplate of the Omnitrix is broken or by using the Biomnitrix.[note 1]
Appearance
Heat Jaws has Ripjaws' torso, head, and tail flap, but has Heatblast's arms and legs. Also, Ripjaws' dorsal fin is replaced by flames.
Powers and Abilities
Being part-Pyronite, Heat Jaws possesses pyrokinesis similar to Heatblast. Surprisingly, his flames get stronger underwater. But since water normally extinguishes fire, he can instead shoot a high-pressure stream of scalding water.
Being part-Piscciss Volann, Heat Jaws' sharp teeth and jaws are as powerful as Ripjaws', being able to rip through steel. He can also swim underwater without extinguishing his flames, and only needs water whenever he is using his fire powers.
Compared to his component aliens, Heat Jaws' enhanced strength and durability are increased.
Weaknesses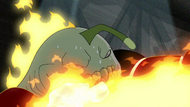 Ben admits that Heat Jaws is "not the best combo", as fire and water-related aliens do not really mix together that well. Because half of his DNA needs water to live while the other half needs to stay away from water, Heat Jaws suffers from extreme problems.
Similar to Ripjaws, Heat Jaws needs to stay out of heat or else he will dry out. But because he constantly generates heat like Heatblast, he will dry out quickly when using his fire powers.
History
Ben 10
Appearances
Ben 10
Season 2
Naming and Translations
| Language | Name | Origin |
| --- | --- | --- |
| Italian | Mastinferno | From masti, part of the word "mastica", chew, and inferno |
| Polish | Zębferno | From zęb, tooth and inferno |
| Portuguese (Br) | Aquachama | From aqua water and chama, flame |
| Romanian | Falcă Vie | From falcă, jaw, and vie, live |
| Russian | Человек Огонь и Челюсти | From человек-огонь, fire-man и and, and челюсти, jaws |
| Spanish (HA) | Acuafuego | From aqua-; and fuego, fire |
| Turkish | Ateş Çene | From ateş, fire, and Çene, jaw |
Trivia
Heat Jaws' voice is the same as Heatblast's in the original series.
Tom Perkins designed Heat Jaws, but he always wanted to go back and do a take that was more uniform rather than having each body part belong to only one of the aliens.[TP 1]
Notes
↑ Diamond Matter, Heat Jaws and Stink Arms are three fusions which were originally created by a broken, prototype Omnitrix. All three fusions are possible with the Biomnitrix, however, they might differ in aspects such as appearance, powers and weaknesses due to the fact that there's no evidence to support the idea that the broken prototype Omnitrix creates fusions the same way as the Biomnitrix.
References