She-Hulk Trailer Dropped - The Loop
Play Sound
This article belongs to the

Classic Continuity
Gyropods are small one-person ships, designed to be jettisoned from larger ships or stations.
Appearance
In the Original Series, the Gyropod had a very simple design. The central spherical chamber held the pilot (and was entered from), a single thruster was behind it, and there were additional rectangular pieces on its sides, of which some parts stored optional weaponry. It was mostly grey with a slight tan color, and it had a big yellow porthole in the front.
In Omniverse, it looked the same as in the Original Series, except that it was more orange in colour (though this may have been a visual effect from the space around it).
Features
The controls of a Gyropod feature many pedals and handles, being more suitable for pilots with more appendages than a human, Protosts especially.[1] Two main cylinders steer the ship and pedals activate the weapons system.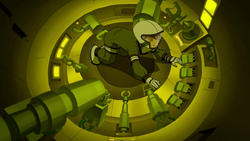 The Gyropod's thruster is very maneuverable, as Ben was able to weave the pod between asteroids while still figuring out the controls, and (when accidentally instructed) was able to make a perfect 90° turn to avoid a collision with a large rock structure.
The Gyropod's weapons system fires green lasers, capable of destroying floating rocks in its way and small robots. Applied with enough force, it is capable of tunnelling through solid rock.
One switch activates a small device that pours an alien refreshment in a small cup.
Weaknesses
With such a small size, the Gyropod doesn't have much in the armor department, as Vilgax's drones were eventually able to pierce through its hull, and the ship exploded upon crashing in the Resolute's cargo bay.[1]
History
When Vilgax attacked Tetrax's ship, Ben was thrown into space due to having just uncovered Xenon's cloaking field outside the ship. Tetrax ejected a pod and sent it to Ben, prioritizing Ben not using the Omnitrix to get back. Ben got inside and started trying every handle around him. After almost crashing into a large rock structure, Ben learned how to steer, and Vilgax's ship ejected flying crab drones to chase after him. Ben came across the weapons system and used it on them, but another wave chased him back into the rock structure. Ben used lasers to tunnel out and escape. As he tried to slowly land in the Resolute's cargo bay, he could see SixSix attacking Tetrax and Myaxx from behind; so he shot at SixSix, breaking off his mask. Some drones had managed to pierce through the pod's hull by then, so Ben ended up crashing the pod and blowing it up in the cargo bay. [1]
In Vilgax Must Croak, when an Incarcecon facility was preparing to hold Vilgax alone and fully automate its systems to do so, all its prisoners were being evacuated via Gyropods.[2]
Appearances
Ben 10
Season 4
Omniverse
Season 3
Trivia
The refreshment that the pod provides is the Protost equivalent to coffee.[pop-up 1]

Ben was appalled by its appearance and didn't drink it.
References