Doctor Strange in The Multiverse o Madness - The Loop
Play Sound
This article belongs to the

Classic Continuity
Gwen's Spellbook, or her Grimoire, as she refers to it,[1] is a purple and gold miniature spellbook which previously belonged to Charmcaster. It was first seen in A Change of Face.
Spells
Acerbus
Adfishio Potentia
Amorous Infecta
Appendage-A Regoria
Aquata Risa Spackwata
Autem Forcems
Badickinis Metalalurca
Bellum Ocorro Mazzora
Botigs Zaborito Carpis Nebegear Gais Liphan Intruders Utien
Camera Oblitera
Camouphlat Vaporis
Cloudordourus
Corona
Declam Baccura
Discombobulus Negatum
Eerie Expectiom
Emocha Objectia
Estotei Quasai Integumentum Imatari Proximum
Fabecio Kai
Facio Gravis
Fallum Quarca Daminigan
Galeas Zipuctus
Gallius Disruptus
Illuminatus
Imperium Im Mentum
Incendia Absum
Keymocha Objectia
Latnica Sorensay
Mulcha Objectia
Mechanae Discombobulus
Mercuta Verditis
Nagnisol Amikae
Pontum Cartigo
Portallus Projectum
Reanima Dynamica
Reanima Verdanica
Rest Ituo Nowitus Wespinaetro Itus Vigoratus Perwita
Saphirius Expectorium Perpetua
Scribo Iniacendia
Segma Sofom
Silicus Milez Sasitatio
Skadiggeteth Metalarka
Stingu Invisibus
Tara Tremmo Eradico
Tardis Motis
Teewat Ligara
Thanatis Icatis Exodus
Transfera Identica
Twista Combititus
Unsquiera Despariot
Vadera Expectitiom Perpetuon
Vortress Nebulae
Via Esporow Via Esprolixas Capti Capters Few Sonmow Lenton Oway On Respicklas Lokis Lusses Via Astendus Ocultes Ienwuar
Appearances
Ben 10
Season 3
Season 4
Alien Force
Season 3
Ultimate Alien
Season 2
Season 3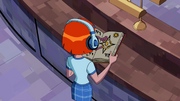 Omniverse
Season 4
Season 5
Season 8
Video Games
Cosmic Destruction
In Ben 10 Ultimate Alien: Cosmic Destruction, Gwen used it to send Cooper home with the spell Meven Aweg.
Trivia
Charmcaster hates Gwen for the fact that she kept the book.

In the original series, she claimed she was upset that Gwen hadn't made better use of it, that after a long time with the spell book Gwen still "hadn't taken off the training wheels".

Gwen used to bring her spellbook to school.[2]
In the original series, Gwen's spellbook was pocket size. Then in Alien Force, it was bigger than her hands. In Ben 10: Ultimate Alien, it was pocket-sized again.
In the original series and Omniverse, Gwen's spellbook contained pictures of the spells, but in Alien Force and Ultimate Alien, it was written in runes, which only people with knowledge of magic can read.
If the user concentrates whilst reading the spellbook, they'll seemingly absorb the magical power of the spellbook, amplifying their magical powers and granting them the ability of flight.[3]
Gwen's spellbook can create a forcefield for defense if something attempts to hit it.[4]
References