Spider-Man: No Way Home Trailer Dropped - The Loop
Play Sound
Greetings from Techadon is the thirty-fourth episode of Ben 10: Ultimate Alien.
Plot
In Bellwood, a massive rectangular object crash lands in the center of Bellwood, and from it emerges a yellow Techadon Robot. Meanwhile, at a local mini-golf course, Ben, Gwen, Kevin, and Julie are playing an even game of miniature golf. Ben casually transforms into Brainstorm to calculate a series of complex equations and easily uses them to score a hole-in-one in a Tokyo hole, causing Julie to demand an immediate rematch.
However, the Techadon from earlier arrives and attacks the group. Remembering their first victory against the Techadons, Brainstorm transforms into Goop. However, this time he has far more difficulty with battling this one, forcing Kevin to spear the Techadon with a model of Tokyo Tower from the golf course. Kevin salvages the Techadon's black box, with the intent of figuring out who sent it before selling it on the open market.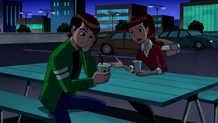 After Ben and Gwen drop Julie off, they go to Mr. Smoothy for drinks, and Gwen comments on how everything seems to come so easily to Ben. Gwen believes that despite how he acts, Ben does take things seriously and only makes what he does look easy. Kevin arrives with bad news: the Techadon was custom made by the Weapon Masters of Techadon themselves, specifically to fight Ben.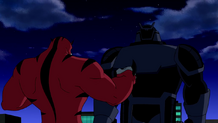 Now the other designs will take into account Ben's past battles with them and they won't stop coming after him until he's dead. At this time, a new grey Techadon arrives, and Goop is rendered useless against it by the past battle. Instead, Ben transforms into Rath and fights it and eventually defeats the Techadon at the cost of Mr. Smoothy. Gwen decides to hunt down the one who put the hit out on Ben, while Kevin and Ben locate the mobile factory from which the Techadons were spawning, which crash landed at the beginning of the episode.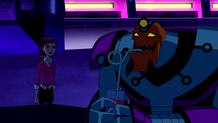 Based on how Kevin stated that the Techadon job would have cost a fortune, Gwen hunts down Vulkanus at the Space Cafe, pointing out that he has the money to afford such an attack. Vulkanus admits to being the one who contracted the Techadons and states that he can't retract the bounty even if he wanted to. Argit arrives and tells Vulkanus that while he is celebrating his early victory, he's missing out on Ben's destruction, and at this Vulkanus leaves to watch "the show" while Gwen pays Argit for his help.
After Kevin and Ben track down the factory, they discover that it's indestructible. Ben transforms into Big Chill but he can't phase into it, nor can Kevin absorb it. A third Techadon is then created from the factory and proceeds to fight Ben and Kevin. Big Chill transforms into Ultimate Big Chill to rescue civilians and lures away the Techadon from the crowded city streets. Once in a safe area to fight, Ben transforms into Echo Echo before Vulkanus arrives on the scene and watches as the Techadon easily pummels Echo Echo and his clones. Echo Echo then transforms into Ultimate Echo Echo and keeps the Techadon at bay with his Sonic Disks.
While the Techadon is occupied, Ultimate Echo Echo asks Kevin how the Techadon is tracking him, and he states that they work visually. At this, Ultimate Echo Echo realizes that it's tracking the Ultimatrix, and he transforms back into Ben and hides it using his jacket. Not able to find the Ultimatrix, the Techadon begins looking around for it.
As a joke, Ben and the others confront Vulkanus and Kevin plants his old ID Mask on Vulkanus' back, setting it to mimic the Ultimatrix symbol, thus causing the Techadon to attack Vulkanus instead. Vulkanus angrily flies away with the robot going after him, yelling at Ben that he wishes he could "hate him to death".
With the Techadon issue resolved, the team decides to get Julie and play her in a rematch in mini-golf. The episode ends with Ben giving Gwen his car keys and telling her she can drive them.
Noteworthy Events
Minor Events
Character Debuts
Characters
Villains
Aliens Used
Quotes

Ben: I'll take him down with Goop (prepares the Ultimatrix. Kevin stops him.)
Kevin: Bad idea! Each robot learns from the one before. This one's gonna be harder to stop.



| | | |
| --- | --- | --- |
| | Ben: They're not so tough. They're big brute robots. And I got my own big brute. (Transforms into Rath) RATH! LEMME' TELL YOU SOMETHING CUSTOM-MADE TECHADON ROBOT, DESIGNED SPECIFICALLY TO DESTROY ME! YOU MAY BE BIG, BUT RATH IS EVEN BIGGER! (Techadon robot walks near him) EXCEPT FOR THE PART WHERE YOU'RE TALLER AND HEAVIER THAN ME... BUT THAT DOESN'T MATTER! 'CAUSE THE BIGGER THEY ARE, THE HARDER... (Techadon robot shoots him with a laser and lands on Mr. Smoothy) (rubs his head) AWW... RATH DOESN'T REMEMBER HOW THE REST OF THAT GOES... THE BIGGER THEY ARE, THE HARDER THEY FALL! THAT'S WHAT RATH WAS GONNA SAY! BY THAT LOGIC, YOU, BEING BIGGER THAN RATH, IS A DISADVANTAGE! RRRRRAAAAAHHHHHH! | |

(Techadon robot shoots a laser. Rath dodges and the laser hits Mr. Smoothy, destroying part of it)
(Rath, Kevin and Gwen look at the ruins of Mr. Smoothy sadly, then Gwen and Kevin see that Rath is the most affected)
Rath: You... You broke Mr. Smoothy... RRRRAAAAAHHHHHH! (Rath charges at the Techadon robot and wrestles it) LEMME TELL YOU SOMETHING CUSTOM-MADE TECHADON ROBOT, DESIGNED SPECIFICALLY TO DESTROY ME!!! YOU CAN HURT ME! YOU CAN HURT THE THINGS I STAND FOR! YOU CAN EVEN HURT MY FEELINGS, IF I HAD ANY! BUT NO ONE, AND I MEAN NO ONE... HURTS... THE SMOOTHY!



| | | |
| --- | --- | --- |
| | Gwen: Need a spaceship? No problem. But ask Dad for a car? (imitates) Maybe for graduation! | |

Ben: Back when we were kids, did you ever think we'd become friends?
Gwen: No. I thought you were gonna drive me insane, me or Grandpa. Probably both.
Ben: One time, Grandpa said when I was old enough, he was going to give me the Rust Bucket. That I'd have to drive it to school every day, take my date to the prom in it. I was totally convinced.
Gwen: I know. Pranking you was my idea.
Ben: It was? Oh man! That was evil! I spent a week stressed out of my mind!
Gwen: But once again, you got the last laugh. You're sixteen, and you've got a cool sports car. Kevin's got one too. Everyone has a car but me! Everywhere I look, all I see are cars.
Ben: You really want a car? I've got an idea.
Gwen: Not the Rust Bucket.
Ben: Then I got nothing. (pause) You could drive mine sometimes, if you want.
(Gwen smiles)




(Argit sent Vulkanus to Earth)
Gwen: Thanks for the help. (Gives Argit some alien money)
Argit: Anytime, Red.




(Kevin has set the ID mask to the evolved Ultimatrix symbol, the trio is staring at Vulkanus while the Techadon comes for him)
Vulkanus: What have you done?
Ben: Tag. You're it.




(Vulkanus flies away from the Techadon, which goes after him)
Vulkanus: TENNYSON, I WISH I COULD HATE YOU TO DEATH!!!



Naming and Translations
| Language | Name | Origin |
| --- | --- | --- |
| Hungarian | Üdvözlet Techadontól | Greetings from Techadon |
| Polish | Pozdrowienia z Techadona | Greetings from Techadon |
| Portuguese (Br) | Lembranças de um Techadon | Memories Of A Techadon |
| Romanian | Salutări din partea Roboților Techadon | Greetings from the Techadon Robots |
| Spanish (HA) | Saludos de Techadon | Greetings Of Techadon |
Cast
Errors
References
T.J. Collins