Characters and/or events depicted in this article belong to the real world and not any continuity.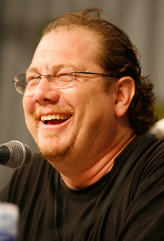 Frederick Tatasciore
(born June 15, 1967,
New York City, New York
) is an American voice actor. His name is pronounced "Tat-a-shore".
Characters Voiced
Hydromander Adolescents
Geezer Bob
Bob-Goblin King
Goblin #3
Movies
Video Games
Community content is available under
CC-BY-SA
unless otherwise noted.