m

 

(162 intermediate revisions by 13 users not shown)
Line 4:
Line 4:
 

|backcolor = 000000

 

|backcolor = 000000

 

|textcolor = 29A648

 

|textcolor = 29A648

−

|complex = Feedback art ov.png

+

| = .png

 

|species = [[Conductoid]]

 

|species = [[Conductoid]]

 

|home-planet = [[Teslavorr]]

 

|home-planet = [[Teslavorr]]

 

|body = Humanoid

 

|body = Humanoid

−

|power = Electrokinesis<br>Energy Absorption<br>Energy Redirection<br>Energy Conversion<br>Enhanced Strength<br>Enhanced Durability<br>Enhanced Dexterity<br>Enhanced Agility<br>Enhanced Jumping<br>Enhanced Reflexes<br>Enhanced Speed <small>(on electrical lines)</small><br>Electrokinetic Flight<br>Electricity-Enhanced Combat<br>Electric Beams<br>Energy Balls<br>Elastic Antennae Tentacles<br>Radiolocation<br>Space Survivability

+

|power = Electrokinesis<br>Energy Absorption<br>Energy Redirection<br>Enhanced Strength<br>Enhanced Durability<br>Enhanced Dexterity<br>Enhanced Agility<br>Enhanced Jumping<br>Enhanced Reflexes<br>Enhanced Speed <small>(on electrical lines)</small><br>Electrokinetic <br> <br> <br> <br>Elastic Antennae Tentacles

 

|voice = [[Yuri Lowenthal]]

 

|voice = [[Yuri Lowenthal]]

 

|1st-appearance = The More Things Change: Part 1

 

|1st-appearance = The More Things Change: Part 1

−

|Alternate Counterparts = [[Feedback (Dimension 23)|Feedback]] <small>([[Dimension 23]])</small>

+

|Alternate Counterparts = [[Feedback (Dimension 23)|Feedback]] <small>([[Dimension 23]])</small>

 
+

{{Quote|Now I remember why I liked this guy! Feedback rules!|Feedback after being used for the first time in five years.<ref name="SD2">''[[Showdown: Part 2]]''</ref>}}

−

|equipment = Containment Suit}}

 
−

'''Feedback''' is the [[Omnitrix (Omniverse)|Omnitrix]]'s DNA sample of a [[Conductoid]] from the [[Teslavorr]] Nebula.

+

'''Feedback''' is the [[Omnitrix]]'s DNA sample of a [[Conductoid]] from the [[Teslavorr]] Nebula.

 
 
 

==Appearance==

 

==Appearance==

−

Feedback's appearance is actually a black containment suit.{{Refn|https://archive.is/Kh5Bp|group = DJW}} He has one green eye in the middle of his head, two antennae and a tail with round plugs on their tips, four-fingered hands, and feet with only two front toes.

+

Feedback a black one green eye in the middle of his head, two antennae a tail with round plugs on their tips, four-fingered hands, and feet with only two front toes.

 
 
−

11-year-old Feedback had a white chest color, similar to [[Buzzshock]]'s design in the [[Ben 10|original series]], and round plugs on the tips of his fingers.

+

11-year-old Feedback had a white chest color and round plugs on the tips of his fingers.

 
 
−

16-year-old Feedback is more muscular than his 11-year-old self, his chest is recolored green, his antennae are noticeably longer, and the plugs on his fingers are now square. He also has gold battery bolts on his shoulders, arms and hips.

+

16-year-old Feedback his 11-year-old self his chest is recolored green and his fingers are now square. He also has gold battery bolts on his shoulders, arms and hips.

 
 
 

Feedback wears the [[Omnitrix (Original)|original Omnitrix]]/[[Omnitrix (Omniverse)|Omnitrix]] symbol on his chest.

 

Feedback wears the [[Omnitrix (Original)|original Omnitrix]]/[[Omnitrix (Omniverse)|Omnitrix]] symbol on his chest.

 
 
 

<gallery hideaddbutton="true" bordercolor="transparent" captionalign="center" spacing="small">

 

<gallery hideaddbutton="true" bordercolor="transparent" captionalign="center" spacing="small">

−

Feedback.PNG| 11-year-old Feedback

+

Feedback.PNG|11-year-old Feedback

 

</gallery>

 

</gallery>

 
 
 

==Powers and Abilities==

 

==Powers and Abilities==

 

<gallery type="slideshow">

 

<gallery type="slideshow">

−

RMP (425).png|Electrokinesis

+

RMP ().png|Electrokinesis

−

LDtTWA (105).png|Electric Energy Blasts

+

().png|Electric

 

SD2 (382).png|Energy Absorption

 

SD2 (382).png|Energy Absorption

⚫
 
 

MaxMonster39.2.png|Elastic Antennae Tentacles

 

MaxMonster39.2.png|Elastic Antennae Tentacles

−

SD2 (373).png|Electrokinetic Flight

+

SD2 ().png|Electrokinetic Flight

 
+

SD2 (373).png|Electrokinetic Levitation

 
+

SD2 (368).png|Electric Explosions

 

C5 (455).png|Radiolocation

 

C5 (455).png|Radiolocation

−

SD1 (373).png|Energy Balls

+

().png|

−

SD1 (75).png|Enhanced Speed (on electric lines)

+

().png|Enhanced

−

Trouble Helix (149).png|Electricity-Enhanced Combat

+

.png|Enhanced

−

Trouble Helix (138).png|Enhanced Strength

+

().png|Enhanced

 
+

WXI1 (333).png|Quadrupedalism

 
+

Trouble Helix (149).png|Electricity Charged Impacts

 
⚫
 
+

SD1 (75).png|Enhanced Speed (on electrical lines)

 

</gallery>

 

</gallery>

 
+

{{Quote|So you need an alien who can channel energy? I think I know just the guy.|[[Ben Tennyson (Classic)|Ben]] to [[Zak Saturday|Zak]], referring to Feedback.<ref name="TGIS">''[[T.G.I.S.]]''</ref>}}

−

Similar to [[Chromastone]], Feedback has the ability to absorb and redirect any kind of energy, most commonly electricity. This ability is refined to the point that Feedback can redirect energy at near-point-blank range. He absorbs energy through the plug-like conductors on his antennae, tail, and fingers.

+

Feedback has the ability to absorb and redirect most commonly electricity. This ability is refined to the point that Feedback can redirect energy at nearpoint-blank range. He absorbs energy through the plug-like conductors on his antennae, tail, and fingers.

 
 
−

Feedback can absorb energy out of living beings, as seen when he battled [[V.V. Argost|Argost]]<ref>''[[T.G.I.S.]]''</ref> and [[Phil Billings|Phil]] in his [[Terroranchula (Species)|Terroranchula]] form.<ref name="MM">''[[Max's Monster]]''</ref><ref>''[[Weapon XI: Part 1]]''</ref>

+

Feedback can absorb energy out of living beings, as seen when he battled [[V.V. Argost|Argost]]<ref/> and [[Phil Billings|Phil]] in his [[Terroranchula (Species)|Terroranchula]] form.<ref name="MM">''[[Max's Monster]]''</ref><ref>''[[Weapon XI: Part 1]]''</ref>

 
+
 
+

Feedback can absorb a [[Crystalsapien]]'s ultraviolet beams,{{Refn|[[:File:Feedback Can Absorb Chromastone's Energy.png]]|group = DJW}} tachyon particles fired from a [[Tachyon Cannon]],<ref>''[[Malefactor]]''</ref> the energy of an [[Annihilargh]],<ref name="AND">''[[A New Dawn]]''</ref> and multiversal levels of energy (as long as the energy of these other universes have their basis in the same set of physical laws).{{Refn|[[:File:Feedback Can Absorb Multiversal Energy.png]]|group = DR}}

 
 
 

Feedback can use stored energy to generate electrical charges, which can be used as ranged attacks or to empower his punches.<ref name="TH">''[[Trouble Helix]]''</ref>

 

Feedback can use stored energy to generate electrical charges, which can be used as ranged attacks or to empower his punches.<ref name="TH">''[[Trouble Helix]]''</ref>

Line 50:
Line 58:
 

Feedback can fire energy balls by joining his fingers and absorbing the energy out of electric devices.<ref name="SD1">''[[Showdown: Part 1]]''</ref>

 

Feedback can fire energy balls by joining his fingers and absorbing the energy out of electric devices.<ref name="SD1">''[[Showdown: Part 1]]''</ref>

 
 
−

Feedback has enhanced agility and jumping abilities, and possesses enhanced speed but only while running quickly on power lines.<ref name="SD1" />

+

Feedback has enhanced agility and jumping abilities, and possesses enhanced speed but only while running quickly on power lines.<ref name="SD1" />

 
 
−

Feedback has enhanced strength, as he can punch a boulder apart with ease.<ref name="TH"/>

+

Feedback a .<ref name=""/>

 
 
−

Feedback can fly by projecting energy behind him like a jet engine.<ref name="SD2">''[[Showdown: Part 2]]''</ref>

+

Feedback can a .<ref name="">''[[]]''</ref>

 
 
−

Feedback is able to stretch the plugs on his head, hips, and hands for more range.<ref name="MM"/> He can also "smell" radio signals by using his antennae.<ref>''[[Clyde Five]]''</ref>

+

Feedback <ref name=""/> .<ref />

 
 
 
+

Feedback is able to stretch the plugs on his head, hips, and hands for more range.<ref name="MM" /> He can also "smell" radio signals by using his antennae.<ref>''[[Clyde Five]]''</ref>

−

Although he has never trained himself to do so, it is implied that because his appearance is a containment suit, Feedback can survive in the vacuum of space.

 
 
+
 
+

Feedback can levitate, as shown when he was about to defeat [[Maltruant]] with the energy released by the latter's Annihilargh.<ref name="AND" />

 
+
 
+

Due to [[Conductoid|his species]] being born in a [[Teslavorr|nebula]] rather than a planet, it is implied that Feedback can survive in the vacuum of space.{{Refn|[[:File:Scan 8.png]]|group = OV Brief}}

 
 
 

==Weaknesses==

 

==Weaknesses==

 
⚫
 
+

BP (258).png|Vulnerable Antennae

 
+

MaxMonster44.png|Ineffective Electrokinesis

 
+

BP (274).png|Unstoppable Electric Blasts

 
⚫
 

Feedback needs to absorb energy from time to time to fight because the energy contained within him will deplete with use.<ref name="SD2" />

 

Feedback needs to absorb energy from time to time to fight because the energy contained within him will deplete with use.<ref name="SD2" />

 
 
 
+

Feedback's antennae can be easily pulled on, causing him great discomfort and leaving him stuck in place.<ref name="Breakpoint" />

−

Like Chromastone, there is a limit to how much energy Feedback can absorb.{{Refn|http://ben10.forumotion.co.uk/t130p900-qa-with-matt-wayne|group = MW}}

 
 
+
 
+

Feedback's electric blasts are occasionally ineffective against opponents who can absorb electricity, such as Phil.<ref name="MM" />

 
+
 
+

Once Feedback powers up his electric energy blasts, he cannot stop himself from shooting them, meaning he will have to resort to shooting them all up in the air to avoid any collateral damage if he fails to catch his target.<ref name="Breakpoint" />

 
 
 

==History==

 

==History==

−

====11-year-old Ben====

+

===Ben===

−

*Feedback was unlocked off-screen after '''''[[Ben 10: Destroy All Aliens]]'''''.{{Refn|http://ask.fm/DerrickJWyatt/answer/121244775284|group = DJW}}

+

*Feedback was unlocked off-screen after '''''[[Ben 10: Destroy All Aliens]]'''''.{{Refn|:.|group = DJW}}

 
+
 
+

===Five Years Prior to Omniverse===

 

*Feedback first appeared in ''[[The More Things Change: Part 1]]'', where he defeated [[Malware]].

 

*Feedback first appeared in ''[[The More Things Change: Part 1]]'', where he defeated [[Malware]].

 

*In ''[[A Jolt from the Past]]'', Feedback defeated the [[Nosedeenian|Megawhatts]].

 

*In ''[[A Jolt from the Past]]'', Feedback defeated the [[Nosedeenian|Megawhatts]].

 

*In ''[[Trouble Helix]]'', Feedback battled Malware.

 

*In ''[[Trouble Helix]]'', Feedback battled Malware.

−

*In ''[[Of Predators and Prey: Part 2]]'', Feedback battled [[Phil Billings (Classic)|Phil]] as [[Terroranchula]].

+

*In ''[[Of Predators and Prey: Part 2]]'', Feedback [[Phil Billings (Classic)|Phil]] as [[Terroranchula]].

 
+

**The same scene reoccurred in a flashback in ''[[Max's Monster]]''.

−

*In ''[[Malefactor]]'', Feedback battled Malware while [[Khyber]] was retrieving a [[Smuggled Psycholeopterran|Psycholeopterran]] DNA sample.

+

*In ''[[Malefactor]]'', Feedback battled Malware while [[Khyber]] was retrieving a [[Smuggled Psycholeopterran|Psycholeopterran]] DNA sample.

−

*In ''[[Showdown: Part 1]]'', Feedback was used several times to defeat the [[Violet Offenders]], somehow save some people from a burning building, and practice his powers. He was used for the last time for the next five years when Malware destroyed him.

+

*In ''[[Showdown: Part 1]]'', Feedback times the [[Violet Offenders]], somehow some people from a burning building, his powers. the him.

−

*In ''[[Max's Monster]]'', Feedback appeared in a flashback while Phil explained how he became half [[Terroranchula (Species)|Terroranchula]].

 
 
 
−

====16-year-old Ben====

+

======

−

*In ''[[Showdown: Part 2]]'', [[Ben Tennyson (Classic)|Ben]] unlocked Feedback again out of forgiveness with his younger self and destroyed Malware for good.

+

*In ''[[Showdown: Part 2]]'', [[Ben Tennyson (Classic)|Ben]] destroyed Malware for good.

 

*In ''[[T.G.I.S.]]'', Feedback defeated [[V.V. Argost|Argost]].

 

*In ''[[T.G.I.S.]]'', Feedback defeated [[V.V. Argost|Argost]].

 

*In ''[[Store 23]]'', Feedback defeated [[Liam]].

 

*In ''[[Store 23]]'', Feedback defeated [[Liam]].

−

*In ''[[Max's Monster]]'', Feedback defeated [[Phil Billings (Classic)|Phil]].

+

*In ''[[Max's Monster]]'', Feedback defeated Phil ()|]].

 

*In ''[[A Fistful of Brains]]'', Feedback defeated [[Albedo|Negative]] [[Ultimate Humungousaur]].

 

*In ''[[A Fistful of Brains]]'', Feedback defeated [[Albedo|Negative]] [[Ultimate Humungousaur]].

−

*In ''[[Rad Monster Party]]'', Feedback battled [[Zs'Skayr]].

+

*In ''[[Rad Monster Party]]'', Feedback [[Zs'Skayr]].

 

*In ''[[Weapon XI: Part 1]]'', Feedback battled the [[Rooters]].

 

*In ''[[Weapon XI: Part 1]]'', Feedback battled the [[Rooters]].

 

*In ''[[Clyde Five]]'', Feedback found Liam and realized he was the one who was controlling the [[Mark 5 Nanoshift Enabled Exo-Armor|Cincotrix]] while [[Clyde Fife|Clyde]] was using it.

 

*In ''[[Clyde Five]]'', Feedback found Liam and realized he was the one who was controlling the [[Mark 5 Nanoshift Enabled Exo-Armor|Cincotrix]] while [[Clyde Fife|Clyde]] was using it.

 

*In ''[[Breakpoint]]'', Feedback failed to catch [[Fistrick]].

 

*In ''[[Breakpoint]]'', Feedback failed to catch [[Fistrick]].

−

*In ''[[Vreedlemania]]'', Feedback battled the [[Pretty Boy Vreedle|Pretty Boys]] and watched [[Ma Vreedle]] scare off [[Vilgax (Classic)|Vilgax]].

+

*In ''[[Vreedlemania]]'', Feedback the [[Pretty Boy Vreedle|Pretty Boys]] and watched [[Ma Vreedle]] scare off [[Vilgax (Classic)|Vilgax]].

 

*In ''[[Let's Do the Time War Again]]'', Feedback defeated [[Subdora]] and accidentally stopped time when he battled the [[Time Beast]].

 

*In ''[[Let's Do the Time War Again]]'', Feedback defeated [[Subdora]] and accidentally stopped time when he battled the [[Time Beast]].

 
⚫
 

*In ''[[The Most Dangerous Game Show]]'', Feedback attempted to battle [[Charles Zenith]] but was immediately reverted by him.

 

*In ''[[The Most Dangerous Game Show]]'', Feedback attempted to battle [[Charles Zenith]] but was immediately reverted by him.

−

*In ''[[A New Dawn]]'', Feedback absorbed the energy released by [[Maltruant]]'s [[Anihilaarg]] and defeated him.

+

*In ''[[A New Dawn]]'', Feedback absorbed the energy released by [[Maltruant]]'s [[]] and defeated him.

−
 
−

====Skurd====

 
⚫
 
 
 
 

==Appearances==

 

==Appearances==

 

<tabber>

 

<tabber>

−

|-|Ben 10: Omniverse=

+

|-|Omniverse=

 

;11-year-old Ben

 

;11-year-old Ben

 

;Season 1

 

;Season 1

−

*''[[The More Things Change: Part 1]]'' <small>(first appearance by 11-year-old Ben)</small>

+

*''[[The More Things Change: Part 1]]'' <small>(first appearance by 11-year-old Ben)</small>

 

*''[[A Jolt from the Past]]''

 

*''[[A Jolt from the Past]]''

 

*''[[Trouble Helix]]''

 

*''[[Trouble Helix]]''

Line 132:
Line 153:
 

;Season 8

 

;Season 8

 

*''[[Malgax Attacks]]''

 

*''[[Malgax Attacks]]''

−

|-|Comics=

+

|-|=

 

;Ben 10<nowiki>:</nowiki> Omniverse

 

;Ben 10<nowiki>:</nowiki> Omniverse

 

*''[[Cartoon Network: Super Secret Crisis War!]]'' <small>(Issue 2, Issue 3, Issue 4, Issue 5)</small>

 

*''[[Cartoon Network: Super Secret Crisis War!]]'' <small>(Issue 2, Issue 3, Issue 4, Issue 5)</small>

 

*''[[Ghost Ship]]''

 

*''[[Ghost Ship]]''

−

|-|Online Games=

+

|-|Online Games=

 

*''[[Alien Unlock]]''

 

*''[[Alien Unlock]]''

 

*''[[Ben 10: Slammers]]''

 

*''[[Ben 10: Slammers]]''

Line 144:
Line 165:
 

*''[[Omniverse Collection]]''

 

*''[[Omniverse Collection]]''

 

*''[[Wrath of Psychobos]]''

 

*''[[Wrath of Psychobos]]''

−

|-|Video Games=

 
−

*''[[Ben 10: Omniverse (Video Game)]]''

 
−

*''[[Ben 10: Omniverse 2]]''

 
 

</tabber>

 

</tabber>

 
 
 

==Video Games==

 

==Video Games==

 
⚫
⚫
 
⚫
 
−

Ben 10 Omniverse The Game Feedback (1).png

 
⚫
 
 

===[[Ben 10: Omniverse (Video Game)|Ben 10: Omniverse]]===

 

===[[Ben 10: Omniverse (Video Game)|Ben 10: Omniverse]]===

 

Feedback is a playable alien in the game (by 11-year-old Ben on consoles only). He is playable by 16-year-old Ben, but only on DS and 3DS.

 

Feedback is a playable alien in the game (by 11-year-old Ben on consoles only). He is playable by 16-year-old Ben, but only on DS and 3DS.

Line 192:
Line 207:
 
 
 

==Etymology==

 

==Etymology==

−

Feedback, in electronics, is the process of returning part of the output of a system to the input. This references Feedback's ability to absorb and then redistribute energy.

+

Feedback, in electronics, is the process of returning part of the output of a system to the input references Feedback's ability to absorb and then redistribute energy.

 
 
 

==Trivia==

 

==Trivia==

 
⚫
⚫
 
 
+

*11-year-old Feedback's color scheme is similar to [[Buzzshock]]'s design in the original series.

−

*The crew originally thought Feedback being destroyed by [[Malware]] was the reason Ben decided to retire from being a hero and remove the [[Omnitrix (Original)|original Omnitrix]], but there may be more twists to that.{{Refn|http://ben10.forumotion.co.uk/t130p725-qa-with-matt-wayne|group = MW}}

 
 
⚫
⚫
 
 
⚫
⚫
 
 
+

*The concept of Feedback came from [[Glen Murakami]] and [[Dwayne McDuffie]]'s story ideas.{{Refn|[[:File:Glen and Dwayne's Idea For Feedback.PNG]]|group = DJW|name = history}}

⚫
 
 
+

*The loss of Feedback, who was Ben's favorite alien at the time, was supposed to be the reason Ben took off the [[Omnitrix (Original)|original Omnitrix]] and retired from being a hero, but none of the crew liked that direction.{{Refn|[[:File:Reason For Ben Removing the Omnitrix.png]]|group = MW}}{{Refn|group = DJW|name = history}}

−

*Feedback's places in the '''Omniverse''' intros change a lot over the course of the show.

 
 
⚫
⚫
 
 
+

**It is unknown when Ben was able to regain access to Feedback after he was destroyed. Despite not turning into him again until ''[[Showdown: Part 2]]'', it is implied that Feedback was never locked in the current [[Omnitrix (Omniverse)|Omnitrix]].{{Refn|''link unavailable''|group = DJW}}

⚫

**Furthermore, as of Arc 4, three clones of 11-year-old [[Ditto]] take 11-year-old Feedback's place in the part where the latter was originally lined up alongside the 11-year-old versions of Ben, [[Four Arms (Classic)|Four Arms]], [[Cannonbolt (Classic)|Cannonbolt]], [[XLR8 (Classic)|XLR8]], [[Wildmutt]], [[Ripjaws]], and [[

Diamondhead (Classic)|

Diamondhead]] at the end.

 
 
⚫
⚫
 
 
+

*Albedo's [[Ultimatrix (Recreated)|Ultimatrix]] does not have Feedback's DNA{{Refn|[[:File:Albedo Doesn't Have Feedback.PNG]]|group = DJW}} because said DNA was not available in the [[Codon Stream]] when Albedo received the ability to transform into any species in ''[[Double or Nothing]]''.{{Refn|[[:File:Feedback's DNA Not in Alteration Field.PNG]]|group = DJW}}

⚫
 
 
+

**Similarly, [[Mad Ben]] does not have Feedback available in his [[Power Watch|Omnitrix]].{{Refn|[[:File:Mad Ben Does Not Have Feedback.png]]|group = DJW}} However, it is unknown if [[Bad Ben]], [[Benzarro]], or [[Nega Ben]] have Feedback available in their Omnitricies.{{Refn|[[:File:Mad Ben Feedback.png]]|group = DJW}}{{Refn|[[:File:Alternate Bens Feedback.png]]|group = DJW}}

 
+

*[[Derrick J. Wyatt]] once claimed that Feedback's appearance is actually a containment suit,{{Refn|[[:File:Conductoid Containment Suit.png]]|group = DJW}} like [[Echo Echo]] and [[NRG]], but he eventually refuted the statement, admitting that he was wrong.{{Refn|[[:File:Feedback Not Containment Suit.PNG]]|group = DJW}}

 

*Feedback, [[Grey Matter (Classic)|Grey Matter]], and [[Juryrigg]] are the only aliens with their own theme song.

 

*Feedback, [[Grey Matter (Classic)|Grey Matter]], and [[Juryrigg]] are the only aliens with their own theme song.

 
+

**Feedback's theme sounds extremely similar to the song "[https://youtu.be/SwVsTKu9Nx4 You Need to Stop]" by Osmo Band.

 

*Feedback and [[Diamondhead (Classic)|Diamondhead]] are the only aliens who have ever defeated Malware.

 

*Feedback and [[Diamondhead (Classic)|Diamondhead]] are the only aliens who have ever defeated Malware.

 
⚫
−

*Feedback, [[Echo Echo]], and [[NRG]] are the only aliens whose appearances are actually containment suits, though it remains unclear what Feedback's inner body looks like.

 
⚫
 
 

**As of '''Omniverse''', Feedback and [[AmpFibian]] are the only aliens who generate blue electricity.

 

**As of '''Omniverse''', Feedback and [[AmpFibian]] are the only aliens who generate blue electricity.

 
⚫
⚫
 
−

*In FusionFall Heroes, Feedback has a yellow eye and a pupil, even though he doesn't have either in the show.

+

*Feedback a the show.

 
⚫
−

*It is unknown if [[Mad Ben]] has Feedback available in his [[Power Watch|Omnitrix]].{{Refn|[[:File:Mad Ben Feedback.png]]|group = DJW}}

 
 
⚫

**Furthermore, as of Arc 4, three clones of 11-year-old [[Ditto]] take 11-year-old Feedback's place in the part where the latter was originally lined up alongside the 11-year-old versions of Ben, [[Four Arms (Classic)|Four Arms]], [[Cannonbolt (Classic)|Cannonbolt]], [[XLR8 (Classic)|XLR8]], [[Wildmutt]], [[Ripjaws]], and [[Diamondhead]] at the end.

 
⚫
 
+

*In ''[[FusionFall Heroes]]'', Feedback has a yellow eye and a pupil, even though he doesn't have either in the show.

 
+

*There are currently no plans to feature Feedback in the [[Ben 10 (Reboot)|reboot]].{{Refn|[[:File:Shock Rock's Purpose.png]]|group = DR}}

 
 
 

==References==

 

==References==

 

{{Reflist}}

 

{{Reflist}}

 
+

===Cartoon Network U.K.===

 
+

{{Reflist|group = CN}}

 

===Crew Statements===

 

===Crew Statements===

 
+

====[[Derrick J. Wyatt]]====

 
+

{{Reflist|group = DJW}}

 
+

====Omniverse Series Master Brief====

 
+

{{Reflist|group = OV Brief}}

 

====[[Matt Wayne]]====

 

====[[Matt Wayne]]====

 

{{Reflist|group = MW}}

 

{{Reflist|group = MW}}

 

====Dave Johnson====

 

====Dave Johnson====

 

{{Reflist|group = DJ}}

 

{{Reflist|group = DJ}}

−

====[[Derrick J. Wyatt]]====

+

====[[ ]]====

−

{{Reflist|group = DJW}}

+

{{Reflist|group = }}

−

====[[Yuri Lowenthal]]====

+

=== ===

−

{{Reflist|group = YL}}

+

{{Reflist|group = }}

 

{{Ben 10 Aliens}}

 

{{Ben 10 Aliens}}

 
+

[[bg:Фийдбек]]

 
+

[[es:Feedback]]

 
+

[[fr:Feedback]]

 
+

[[it:Mangiaenergia]]

 
+

[[pl:Feedback]]

 
+

[[pt-br:Feedback]]

 
+

[[ro:Undă]]

 
+

[[ru:Фидбэк]]

 
+

[[tr:Feedback]]

 

[[Category:Aliens]]

 

[[Category:Aliens]]

 

[[Category:Transformations]]

 

[[Category:Transformations]]
---
Latest revision as of 02:02, 7 January 2021
"
Now I remember why I liked this guy! Feedback rules!
"

– Feedback after being used for the first time in five years.[1]
Feedback is the Omnitrix's DNA sample of a Conductoid from the Teslavorr Nebula.
Appearance
Feedback has a black body with one green eye in the middle of his head, two antennae, a tail with round plugs on their tips, four-fingered hands, and feet with only two front toes.
11-year-old Feedback had a white chest color and round plugs on the tips of his fingers.
16-year-old Feedback looks identical to his 11-year-old self except his chest is recolored green and his fingers are now square. He also has gold battery bolts on his shoulders, arms, and hips.
Feedback wears the original Omnitrix/Omnitrix symbol on his chest.
Powers and Abilities
"
So you need an alien who can channel energy? I think I know just the guy.
"
Feedback has the ability to absorb and redirect energy attacks,[CN 1] most commonly electricity. This ability is refined to the point that Feedback can redirect any type of energy at near point-blank range. He absorbs energy through the plug-like conductors on his antennae, tail, and fingers.
Feedback can absorb energy out of living beings, as seen when he battled Argost[2] and Phil in his Terroranchula form.[3][4]
Feedback can absorb a Crystalsapien's ultraviolet beams,[DJW 1] tachyon particles fired from a Tachyon Cannon,[5] the energy of an Annihilargh,[6] and multiversal levels of energy (as long as the energy of these other universes have their basis in the same set of physical laws).[DR 1]
Feedback can use stored energy to generate electrical charges, which can be used as ranged attacks or to empower his punches.[7]
Feedback can fire energy balls by joining his fingers and absorbing the energy out of electric devices.[8]
Feedback has enhanced agility, reflexes and jumping abilities, and possesses enhanced speed but only while running quickly on electrical power lines.[8]
Feedback can fly by projecting energy behind him like a jet engine.[1][9]
Feedback has enhanced strength, as he can punch a boulder apart,[7] lift Phil in his Terroranchula form[4] and charge into a building by busting down a wall with ease.[10]
Feedback has enhanced durability, as he quickly shrugged off Malware's blast that made him fall into water[1] and was unfazed when Terroranchula Phil threw him against a wall.[3]
Feedback is able to stretch the plugs on his head, hips, and hands for more range.[3] He can also "smell" radio signals by using his antennae.[11]
Feedback can levitate, as shown when he was about to defeat Maltruant with the energy released by the latter's Annihilargh.[6]
Due to his species being born in a nebula rather than a planet, it is implied that Feedback can survive in the vacuum of space.[OV Brief 1]
Weaknesses
Feedback needs to absorb energy from time to time to fight because the energy contained within him will deplete with use.[1]
Feedback's antennae can be easily pulled on, causing him great discomfort and leaving him stuck in place.[10]
Feedback's electric blasts are occasionally ineffective against opponents who can absorb electricity, such as Phil.[3]
Once Feedback powers up his electric energy blasts, he cannot stop himself from shooting them, meaning he will have to resort to shooting them all up in the air to avoid any collateral damage if he fails to catch his target.[10]
History
Ben 10
Five Years Prior to Omniverse
Omniverse
Appearances
11-year-old Ben

Season 1
Season 2
Season 4
16-year-old Ben

Season 2
Season 3
Season 4
Season 5
Season 6
Season 7
Season 8
Skurd

Season 8
Video Games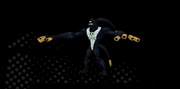 Feedback is a playable alien in the game (by 11-year-old Ben on consoles only). He is playable by 16-year-old Ben, but only on DS and 3DS.
Feedback is a playable alien in the game (only on 3DS).
Naming and Translations
Language
Name
Origin
Bulgarian
Фийдбек
From the original English name
Chinese
电蜥
From 电 (Diàn), electric, and 蜥 (Xī), lizard
Dutch
Feedback
From the original English name
French
Rétroactor (11 years old)
Feedback (16 years old)
From rétroactor, retroractor
From the original English name
German
Blitzschlag
From blitz, lightning and schlag, hit
Hungarian
Feedback
From the original English name
Italian
Mangiaenergia
From mangia, eat/eater, and energia, energy
Japanese
フィードバック
From フィードバック (Fīdobakku)
Korean
드백
From 피드백, feedback
Polish
Feedback
From the original English name
Portuguese (Br)
Feedback
From the original English name
Romanian
Unda
From unda, wave
Russian
Фидбек
From the original English name
Spanish (HA)
Feedback
Retroalimentación (Malefactor)
From the original English name
From retroalimentaión, feedback
Turkish
Geribesleme
From Geri, back and besleme, feed
Etymology
Feedback, in electronics, is the process of returning part of the output of a system to the input; this references Feedback's ability to absorb and then redistribute energy.
Trivia
Ben 23 had originally named his version of Feedback "Plug Man", but eventually changed it due to liking the name "Feedback" better.[12]
11-year-old Feedback's color scheme is similar to Buzzshock's design in the original series.
According to Yuri Lowenthal, Feedback has the heroic voice that he always wanted for himself.[AC 1]

Whenever Feedback speaks, an electrical sound is heard.

The concept of Feedback came from Glen Murakami and Dwayne McDuffie's story ideas.[DJW 3]
The loss of Feedback, who was Ben's favorite alien at the time, was supposed to be the reason Ben took off the original Omnitrix and retired from being a hero, but none of the crew liked that direction.[MW 1][DJW 3]

Due to the loss of Feedback, he is one of the four regular aliens to be temporarily destroyed and removed from the original Omnitrix/Ultimatrix; the others being Chromastone, Way Big, and Swampfire.
It is unknown when Ben was able to regain access to Feedback after he was destroyed. Despite not turning into him again until Showdown: Part 2, it is implied that Feedback was never locked in the current Omnitrix.[DJW 4]

Feedback is the first new alien transformation to appear onscreen in Omniverse. He is also the final alien used by 16-year-old Ben onscreen in Omniverse, as well as the Classic Continuity as a whole.
Albedo's Ultimatrix does not have Feedback's DNA[DJW 5] because said DNA was not available in the Codon Stream when Albedo received the ability to transform into any species in Double or Nothing.[DJW 6]
Derrick J. Wyatt once claimed that Feedback's appearance is actually a containment suit,[DJW 10] like Echo Echo and NRG, but he eventually refuted the statement, admitting that he was wrong.[DJW 11]
Feedback, Grey Matter, and Juryrigg are the only aliens with their own theme song.

Feedback's theme sounds extremely similar to the song "You Need to Stop" by Osmo Band.

Feedback and Diamondhead are the only aliens who have ever defeated Malware.
While Feedback's electricity is colored blue, 17-year-old Mutant Kevin's electricity is colored red.[13]

As of Omniverse, Feedback and AmpFibian are the only aliens who generate blue electricity.

Feedback was designed by Dave Johnson, the art director of the first two seasons of the original series who designed Ben's first 10 aliens.[DJ 1]
Feedback's places in the Omniverse intros change a lot over the course of the show.

From Arc 4 onwards, 11-year-old Feedback is replaced with his 16-year-old self.
Furthermore, as of Arc 4, three clones of 11-year-old Ditto take 11-year-old Feedback's place in the part where the latter was originally lined up alongside the 11-year-old versions of Ben, Four Arms, Cannonbolt, XLR8, Wildmutt, Ripjaws, and Diamondhead at the end.
Feedback is also replaced with Snare-oh in the opening intro of Arc 5.

In FusionFall Heroes, Feedback has a yellow eye and a pupil, even though he doesn't have either in the show.
References
Cartoon Network U.K.
Crew Statements
Omniverse Series Master Brief
Dave Johnson
Audio Commentary
Community content is available under
CC-BY-SA
unless otherwise noted.