Jurassic World: Dominion Dominates Fandom Wikis - The Loop
Play Sound

Characters and/or events depicted in this article belong to the real world and not any continuity.
Dwayne Glenn McDuffie (February 20, 1962 – February 21, 2011) was an American writer of comic books and television, perhaps best known for co-founding the comic book company Milestone Media, known for characters such as Icon, Static, Hardware, and the Blood Syndicate. His other notable works include creating the animated series adaptation of Static, Static Shock, as well as serving as a writer and producer for the animated series Justice League Unlimited.
McDuffie was one of the writers of Ben 10: Alien Force, and during the run of the series he wrote and/or story-edited all 46 episodes. He worked on the sequel of Alien Force, Ben 10: Ultimate Alien.
Dwayne McDuffie also owned a website with a board where he answered the fans' questions about the show. The Dwayne McDuffie Fund/Dwayne McDuffie Award For Diversity are decided by a community of judges for the purpose of recognizing outstanding work to promote diversity in the comic book industry.
McDuffie was hired to help revamp and story-edit Cartoon Network's popular animated Ben 10 franchise with Ben 10: Alien Force, continuing the adventures of the ten-year-old title character into his mid and late teenage years. During the run of the series, McDuffie story-edited all forty-six episodes. McDuffie was producing and story editing a second sequel series, which premiered April 23, 2010. He was also involved in the creation of the fourth Ben 10 series.[ES 1]
Ben 10: Alien Force
Ben 10: Ultimate Alien
Ben 10: Omniverse
Death
Tragically, Dwayne died on February 21, 2011 due to complications from an emergency heart surgery to repair a ruptured aortal aneurysm. He is survived by his wife and mother. His death took place at Providence Saint Joseph Medical Center.
Dedications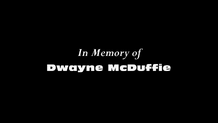 Gallery
Trivia
By the time of Dwayne's death, all the writing and recording was finished on Ultimate Alien. All that was left was some animation and post-production on the last few episodes.[ES 1]
Dwayne wrote future episodes of the Ben 10 series before his death.[ES 2]
When asked if he would give Ben's aliens Ben's clothing, he replied "Likely never".[DM 1]
Comedian Keegan Michael Key was Dwayne McDuffie's half brother.
Dwayne went to film school with Alex Winter, who directed Race Against Time and Alien Swarm.[DM 3]
Matt Wayne went to college with Dwayne and was his best friend.[DJW 1] Derrick J. Wyatt met Dwayne through Glen Murakami before they worked on Teen Titans, and his office was close to Wyatt's cubicle when he was working on the aforementioned show and Dwayne was working on Static Shock, hanging out with him on breaks.[DJW 2]
References
Dwayne McDuffie
External links