Doc Solomon Saturday is a hero and ally of Ben in Ben 10: Omniverse. He first appeared in T.G.I.S.. He is the husband of Drew Saturday and the father of Zak Saturday.
Appearance
Doc has a dark complexion, and his right eye is damaged and scarred vertically. He has short, black hair with a white streak in the center. Like the rest of the Saturdays, he wears an orange jumpsuit with the Secret Saturdays "S" logo on his chest and screw-like protrusions on both arms.
Personality
He is very serious and devoted to his work. He does not believe in magic.
History
Powers and Abilities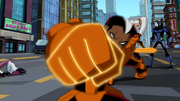 He has above average fighting skills and uses a power glove to enhance his strength.
Equipment
Doc Saturday possesses a Power Glove which gives him enhanced strength.
Appearances
Ben 10: Omniverse
References
Community content is available under
CC-BY-SA
unless otherwise noted.