Jurassic World: Dominion Dominates Fandom Wikis - The Loop
Play Sound

Characters and/or events depicted in this article are retconned from the TV continuity.
"
I never had a partner named Devin Levin did I? You implanted that memory years ago so I'll feel obligated, so I'll keep an eye on Kevin.
"
Devin Levin was a false memory planted in Max Tennyson's mind by Servantis.[1] He was supposedly Kevin's father and Max's partner.
Appearance
In appearance, Devin was indistinguishable from a human. He did not have horns on his head like Aggregor.
Personality
Devin was described by Max and subsequently shown as "energetic" and "likable".[2]
History
Alien Force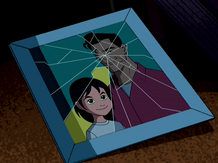 Devin's "existence" was first mentioned in Darkstar Rising, though his full name was not revealed until If All Else Fails.
In Max's false memory, as chronicled as a flashback in Vendetta, Max and Devin were trying to escape from Ragnarok, a dangerous criminal who steals the energy of stars and sells them to the highest bidder. The key to his ship having been stolen by Devin, Ragnarok was in pursuit to retrieve it. Having managed to render their ship dead in space, Ragnarok boarded and attacked them, demanding his key back.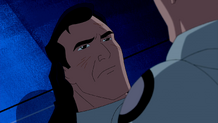 When none of his or Max's weapons were effective against Ragnarok, Devin was forced to absorb electricity to buy them some time. While Devin was able to retain his sanity (due to his experience), Ragnarok managed to prevent Max from using a Null Void Projector and trapped them both under heavy fire.
Devin shielded Max from Ragnarok's attack, buying Max a chance to get his hands on the Null Void Projector and send Ragnarok to the Null Void. Devin died in Max's arms, expressing that dying to save Earth wasn't a bad way to go. His last request was for Max to tell his wife and son, who was about five at the time,[DM 1] that he loved them.
Omniverse
In The Rooters of All Evil, Max found out that Devin was a false memory Servantis gave to him in order to manipulate him into keeping an eye on Kevin. When confronting Servantis about this, Max learned that the fake memory was made so that he could also keep an eye on the "other experiments".
Powers and Abilities
Much like Kevin, he can absorb energy, whether or not he can absorb matter is unknown.
Weaknesses
It was implied by both him and Max that absorbing energy is too dangerous for him.
Appearances
Alien Force
Season 3
Vendetta (first appearance; flashback; death)
Trivia
Servantis planted the memory of Devin in Max's mind so that he would feel obligated and keep an eye on Kevin.[1]
Not only was Max's partnership with Devin a fake memory, but Devin never existed altogether.[DJW 1][DJW 2]

When asked about the credibility of a photograph of Devin and a young Kevin featured in Vendetta, Derrick J. Wyatt confirmed that the photo itself was a fake.[DJW 3]
References