Characters and/or events depicted in this article belong to the real world and not any continuity.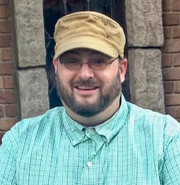 Derrick James Wyatt (born August 10, 1972, Traverse City, Michigan) is the art director for Ben 10: Omniverse. A Galvan character based on him appears in the show.
Trivia
Derrick had been a fan of the show since the original series. He and Matt Youngberg both often discussed what they would do with the franchise prior to joining the crew for Omniverse.[DJW 1]
Derrick is an avid toy collector and owns toys of Ben 10 characters throughout the classic continuity. 
Derrick reviewed most of the Omniverse figures in various stages of production. Sometimes he makes notes to Bandai to make the toys be more on model.[DJW 4] He also contributes to some toy-exclusive design, such as Toepick's tentacle covered face.[DJW 5]
When asked about the most fun thing to design when working on Omniverse, Derrick stated that he liked designing the civilians based on Ben's aliens.[DJW 6]
Derrick's favorite Omnitrix alien is Grey Matter.[DJW 7]
Derrick's favorite Pokémon is Koffing,[DJW 8] whose design would serve as the basis for both Gutrot and Ultimate Gravattack's mini planetoids.
Derrick's favorite episodes from throughout the Classic Continuity are Ben 10,000 for the original series, X = Ben + 2 for Alien Force, Double or Nothing for Ultimate Alien and Universe vs. Tennyson for Omniverse.[DJW 9][DJW 10]
If Derrick were to have an Omnitrix of his own, his aliens would include Grey Matter, Upchuck, Humungousaur, Ditto, Bullfrag, Frankenstrike, Ultimate Goop, Ball Weevil, Squidstrictor, and Big Chuck.[DJW 12]
Despite the show being over, Derrick has designed numberous Omniverse designs in 2020.

Derrick would collaborate with his friend dychemooch on livestreams where they made recolored aliens as if they were used by different characters. Some original aliens also came out of the livestreams, such as Alien Z, Decimus Prime, Trunk Man, The Darkness and Archfiendzarro.
As a third party commission, Derrick designed Omniverse versions of Spitter, Portaler, Antigravitesla, Chamalien, and Bob the Blob.
A GoFundMe was later made to get Derrick to design a series Omniverse models, most of which were recolors.[DJW 15] Some of these goals included 11-year old versions of Ghostfreak and Frankenstrike, 16 and 15-year-old versions of Jetray, original aliens Squirtapiller and Snark Tanque, unproduced aliens Decagon Vreedle and Ventrilosquid, alternate versions of Frankenstrike belonging to Albedo, Mad Ben, and Nega Ben (the latter being named The Electric Corpse), Rex Salazar and Fasttrack. The fundraiser succeeded in its goal of $5000.

An ideal crossover with Omniverse that Derrick has in mind would be with the 2011 Thundercats animated series.[DJW 16]
An ideal creature from Scooby-Doo lore that Derrick would like to add as an alien into the Omnitrix would be the Space Kook.[DJW 18]
References
Crew Statements
Derrick J. Wyatt
Community content is available under
CC-BY-SA
unless otherwise noted.