Characters and/or events depicted in this article are a what-if

version and are non-canon
Contents of this article do not appear on any official media of the franchise.
Decimus Prime is the Omnitrix's DNA sample of a Cybertronian from the planet Cybertron. He is exclusive to Ben Prime's dimension.[note 1]
Appearance
Decimus is a large green robotic humanoid. He has white fingers, two rods sticking out of his back as well as tires on his shoulders and legs. A large Omnitrix logo on his chest, with the real one in the middle.
Powers and Abilities
Decimus is able to transform into a car that allows him to drive at high speeds.
Decimus probably has some type of energy melee weapon.[DJW 2]
Decimus is not vulnerable to Archa 7 arachnids because they are not considered a natural predator to Cybetronians.[DJW 3]
Trivia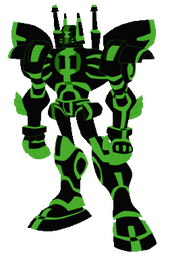 Decimus Prime's artwork was made on a livestream with Derrick J. Wyatt and dyemooch in 2020.
Decimus Prime is a nod to Derrick's work on Transformers: Animated.
In the Transformers franchise, Vector Prime speculates that the Malgus cluster of universes may have interacted with the Ben 10 universe at some time, explaining why Khyber has trophies of Lockdown's Hook and Grimlock's Flame Sword in his ship.[1]

This information is canon to Transformers, but not to Ben 10.
Notes
↑ The transformation, being created by Art Director Derrick J. Wyatt long after the series ended, is non-canon and unofficial. Derrick considers Decimus in particular a "What If" situation unless a crossover could ever actually happen, which are no more than "imaginary stories" until they do.[DJW 1] The legitimacy of this transformation is up to the reader.
References
Community content is available under
CC-BY-SA
unless otherwise noted.