We're Getting Mutants in the MCU - The Loop
Play Sound

This article belongs to an alternate timeline or dimension within the Reboot Continuity
Crossover Nexus is a crossover event between Ben 10, Teen Titans Go!, OK K.O.! Let's Be Heroes, and Steven Universe. It aired as an episode of OK K.O.![1]
Synopsis
When KO finds himself trapped in a mysterious place, he encounters other Cartoon Network Heroes, and they band together to escape.
Plot
In a destroyed city, two shadowed heroes are being attacked by a villain named Strike. Fed up by their hiding, he summons K.O. to fight instead. Just as he's about to destroy him, one of the shadowed heroes saves him, revealing herself to be Garnet. The other shadowed hero is Ben 10, and they run. Strike sends his blaster after them. After brief introductions, the blaster engages them. Ben turns into Four Arms and pushes it back.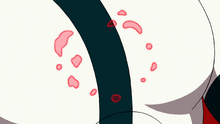 The blaster retaliates by blasting off his Omnitrix, preventing him from turning back. Garnet also loses her glasses, which enabled her to focus her future vision. The three escape and manage to temporarily bring down the blaster.
Escaping into a abandoned building, they find numerous other heroes frozen in stone with red X's on them. They do find one hero named Raven, who managed to survive Strike's attack due to a protection spell. She explains that the city they're in used to be a bustling utopia for all sorts of heroes until Strike showed up to destroy all of them, stealing their powers. He then began summoning heroes to destroy from other dimensions.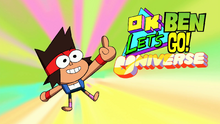 Raven has also lost most of her powers, only able to levitate. The four decide to attack Strike's lair head on, even forming their team name: O.K. Ben Let's Go Universe.
Using Raven's levitation and Garnet and K.O's punches, the quartet evade traps and monsters sent by Strike and make it to his lair. The blaster shows up once more and corners them. Strike arrives and begins powering up. K.O. uses this opportunity to grab the blaster, figuring that its appearance as a pen would indicate it could create as well as destroy. K.O. restores his new friend's powers and they engage Strike. He sends X energy blasts down that Garnet deflects with rapid fire gauntlet strikes and future vision and Raven uses a blast of dark energy.
When Ben tries to change, he only changes into the various heroes he saw before. K.O. explains that when he used the pen to restore the Omnitrix, the powers that Strike has stolen came with it. K.O. then uses a power fist to launch Ben at the stunned Strike.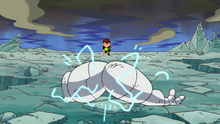 Ben then transforms into many heroes as he delivers a devastating final hit, destroying Strike. Garnet reprograms the blaster, and the city, as well as all the heroes, are restored by it. Raven opens portals to their home dimensions, and she and Ben both depart. Before Garnet leaves, she uses the blaster to create a POW card of herself for K.O. and leaves for her dimension. K.O. returns to his home and wakes up in Gar's Bodega. Initially believing he was dreaming, he then discovers the Garnet POW card, realizing that recent events were true.
Noteworthy Events
Major Events
Ben travels to another dimension for the first time.
Ben, Garnet, K.O., and Raven interact for the first time.
It is revealed that Strike brought destruction upon the residence of CN City, and the city itself.
It is revealed that there is a canon Cartoon Network Multiverse.
Minor Events
The Omnitrix gets a side affect after being recreated by Strike's Pen, allowing Ben to transform into Cartoon Network Characters from across the multiverse, when in the Nexus realm.
Characters
OK Ben Let's Go Universe
Cameo Characters
Villains
Omnitrix Transformations Used
Cameo Transformations
Quotes

K.O.: You two seem like heroes, but I can't find either of you in my Pow Cards.
Garnet: I'm a Crystal Gem. I fight off threats from outer space and protect my planet from anything that would harm it. The name's Garnet.
K.O.: That's amazing! Uh, what do you do, little boy?
Ben: Uh, I'm Ten.
K.O.: Oh! I'm Sorry.
Ben: No, I'm Ben Ten...nyson. I travel around the country with my grandpa and cousin Gwen in an RV.




Pen: Spin attack.
Four Arms: That don't look good.
K.O.: (Strains) Thanks, Ben. Or should I call you Four Arms? It's kind of confusing.
Four Arms: Don't sweat it.




K.O.: Garnet! Your cool glasses!
Garnet: We'd better get movin'. We got to lose it before it recovers and steals any more of our powers.
K.O.: Your sunglasses were your power?
Garnet: Not quite. They just gave me the clarity and focus I need to use my future vision Also, they're prescription.



| | | |
| --- | --- | --- |
| | Ben, Raven, K.O., and Garnet together: OK Ben! Let's Go Universe! | |

Ben: Got to find the right alien for the job! (Hits watch).
Jake the Dog: What? For reals? (Transforms into Prohyas Warrior).
Dolphin Magisword: (Chatters). (Changes back to human).
Ben: My Omnitrix! Why isn't this thing working?!
K.O.: Ben! It's okay! Your Omni-thingy was made with Strike's power, and he has the power to summon any hero into this world.
Ben: (Chuckles) I see where your going with this. It's Hero Time!
K.O.: You just need... (Shouts) ...a power fist!



Cast
Transcript
Click here for the transcript of Crossover Nexus.
Errors
In the Crystal Gems' cameo, Amethyst's outfit is colored with the colors of her second regeneration instead of her third.
Pearl's star is also colored incorrectly in the same shot.
When Ben hits the Omnitrix, the dial doesn't pop up.
When K.O. and Garnet fight off Strike's fish, Garnet's fist is colored incorrectly.
Continuity
This episode is canon with the Ben 10 reboot,[DR 1] taking place after the events of Omni-Copped from Ben's perspective, as evident by the Omnitrix's Season 3 design.
This episode marks the third time the Omnitrix is removed from Ben, as this previously happened in Ben Again and Again and Innervasion Part 3: Strange Bedfellows.
This episode marks the first time Ben transforms from one form to another by pressing the Omnitrix while transformed.
Allusions
The current CN logo is used in the title card of the episode but instead of saying Cartoon Network, it now says Crossover Nexus.
The special is a tribute to the history of Cartoon Network with many Easter eggs.
When Ben introduces himself to Garnet and K.O., the baseline and guitar rift from the original theme song is heard.
The soundtrack that is used when Strike summons K.O. is called Welcome To The Nexus. However, in a Twitter promo, the soundtrack that was used is the same music that was used in The More Things Change: Part 1, when Khyber and Zed make their debuts.[CN 1]
When Ben first introduced himself, he posed similar to how he did in one of the reboot's promotional posters.
When K.O. first heard Raven's voice, thinking it was Ben's, Four Arms says, "Dude, did that honestly sound like my voice to you". This is an inside joke, as both Ben and Raven are voiced by Tara Strong.
The team name K.O. comes up with "OK Ben Let's Go Universe", is an amalgam of the names of main character's respective shows.
Strike's blaster apparently resembling a pen could be a meta gag on how most modern cartoons are drawn digitally, especially how it's able to erase and create anything.
Ben's form-changing special attack in the end of the special is the "Cartoon Network Punch Time Explosion", which is named after the video game of the same name.[IJQ 2]
Raven was about to enter a portal that had the original 2003 Teen Titans logo before she changed it to the Teen Titans Go! version.

In the storyboards, Ben's portal had the 2005 Ben 10 logo with him saying "I can't wait to see my cousin Gwen, whom I love". This is an ironic reference to how in the original series, Ben and Gwen would rarely get along, unlike the reboot.

The Omnitrix's activation noise that is used in the special is a pitch shifted version of the original prototype, pre recalibrated, Omnitrix activation noise.
Trivia
Crossover Nexus was announced at San Diego Comic Con 2018.
Despite chronologically taking place after Omni-Copped,[DR 1] this episode aired before the release of Innervasion in the U.S.
In the first teaser trailer, Ben appeared to have the Omnitrix from Season 1.
This crossover directly connects the reboot back to the Classic Continuity of the Ben 10 franchise, as Rex Salazar from the Generator Rex series and Ben 10-Generator Rex: Heroes United appears as a statue in this episode.
When asked why Ben Tennyson from the Classic Continuity did not appear in Crossover Nexus, Duncan Rouleau replied to wait, saying that an answer would be coming soon.[DR 2]
The run time for this special was originally meant to be 22 minutes, therefore the whole idea had to be reworked.
This is the second crossover not to be dubbed in Hindi after Heroes United.
The various forms Ben turns into near the end of this episode can only be accessed in the Nexus Realm,[DR 3] meaning he is unable to use them in his home dimension.
In the final episode of OK K.O.!: Let's Be Heroes, Thank You for Watching the Show, it is shown that Strike has returned to life after his demise, and is also shown fighting Zak Saturday, Randall P. McDuff, and Sunny Bridges. Those cameos were included because no one from The Secret Saturdays, Party Wagon, or Class of 3000 appeared in this episode.
During the later run of the original series, Ben 10 previously had skits with Beast Boy.
When asked if Ben 10: Omniverse would have a crossover with Teen Titans Go!, Matt Wayne denied any plans at the time.[MW 1]

However, he did agree that he thought a crossover would work well and that executive Sam Register likely thought the same.[MW 2]
Video Gallery
See Also
References
Crew Statements
Ian Jones-Quartey
Cartoon Network
Ben 10 Episodes
| | |
| --- | --- |
| Season 1 | Waterfilter • The Filth • Clown College • The Ring Leader • Take 10 • Ben 24hrs • Freaky Gwen Ben • Rustbucket RIP • The Clocktopus • Growing Pains • Villain Time • Something I Ate • Don't Let the Bass Drop • Cutting Corners • Animo Farm • Riding the Storm Out • Need for Speed • Brief Career of Lucky Girl • Forgeti • Shhh! • Bright Lights, Black Hearts • Adventures in Babysitting • Steam is the Word • Recipe for Disaster • All Wet • Story, Bored • Xingo • Drive You Crazy • Scared Silly • Hole in 10 • The Beast Inside • Tomorrow Today • Bad Penny • Max to the Max • Zombozo-Land • Don't Laze Me, Bro • Omni-Tricked: Part 1 • Omni-Tricked: Part 2 • Omni-Tricked: Part 3 • Omni-Tricked: Part 4 |
| Season 2 | Out to Launch • Can I Keep It? • Battle at Biggie Box • Bon Voyage • The 11th Alien: Part 1 • The 11th Alien: Part 2 • Mayhem in Mascot • Screamcatcher • Vote Zombozo • Animorphosis • High Stress Express • Creature Feature • Drone On • Safari Sa'Bad • The Nature of Things • Assault on Pancake Palace • Bomzobo Lives • The Sound and the Furry • King Koil • Reststop Roustabout • That's The Stuff • Half-Sies • Xingo's Back • Bounty Ball • Fear The Fogg • The Charm Offensive • Super-Villain Team-Up • The Feels • Chicken Nuggets of Wisdom • Past Aliens Present • Double Hex • Ye Olde Laser Duel • Ben Again and Again • All Koiled Up • Dreamtime • Innervasion Part 1: Message in a Boxcar • Innervasion Part 2: Call the Dream Police • Innervasion Part 3: Strange Bedfellows • Innervasion Part 4: Mind Over Alien Matter • Innervasion Part 5: High Override |
| Season 3 | Omni-Copped • This One Goes to 11 • Moor Fogg • Rath of Con • King of the Castle • Speechless on the Seine • Poles Apart • Show Don't Tell • Don't Touch • Big in Japan • Welcome to Zombozo-Zone! • Bridge Out • Cyber Slammers • Big Ben 10 • Beach Heads • LaGrange Muraille • Charm School's Out • Billy Bajillions • Franken-Fight • Buggin' the Buggs • Which Watch • Baby Buktu • Them's Fightin' Words! • Lickety Split • Mutiny for the Bounty • The Chupaca-bro • Buggy Out • Introducing Kevin 11 • Four by Four • Cirque-Us • Forever Road • The Bentathlon • Beware the Scare-Crow • The Night Ben Tennyson Came to Town • The Claws of the Cat • Prey or Play • And Xingo Was His Name-O • Fear in the Family • Roundabout: Part 1 • Roundabout: Part 2 |
| Season 3 Extra | Xingo Nation • Heads of the Family • My Bodyguard • Wheels of Fortune • Heat of the Moment • Vin Diagram • A Sticky Situation • What Rhymes with Omnitrix? • You Remind Me of Someone • Adrenaland Jr. • Steam Fight at the OK Corral • I Don't Like You |
| Season 4 | Gentle Ben • Funhouse • Summer Breakers • The Monsters in Your Head • Tokyo Fun, Part 1: Big Bugg Bash • Tokyo Fun, Part 2: Slamming It Up • Queen of Bees • Falls, Falls, Falls • The Greatest Lake • Mud on the Run • Chicken In Chichen Itza, Part 1: Pyramid Scheme • Chicken In Chichen Itza, Part 2: The Wages of Fear • It's Story Time • Cosplay Day • Bottomless Ben • Tales from the Omnitrix • Ben in Rome, Part 1: A Slice of Life • Ben in Rome, Part 2: The Bee's Knees • Party Poopers • Wind Some, Lose Some • Digital Quality • Tim Buk-tv • Growing Up Is Hard to Do • The Hex Factor • Sweet Tooth • Medieval Upheaval • Speed of Sound • Xingo's World • Tummy Ache • Players of the Lost Park • De-Fanged • Mock 10 • Rekoil • Buktu The Future |
| Season 4 Movie | Ben 10 Versus the Universe: The Movie |
| Season 5 Specials | Ben 10,010 • Ben Gen 10 • Alien X-Tinction |
| Specials | Crossover Nexus |
| | |
| --- | --- |
| Season 1 | The Filth • Waterfilter• The Ring Leader • Riding the Storm Out • The Clocktopus • Take 10 • Growing Pains • Shhh! • Brief Career of Lucky Girl • Animo Farm • Clown College • Adventures in Babysitting • Something I Ate • Steam is the Word • The Beast Inside • All Wet • Villain Time • Drive You Crazy • Tomorrow Today • Story, Bored • Hole in 10 • Recipe for Disaster • Rustbucket RIP • Freaky Gwen Ben • Ben 24hrs • Bright Lights, Black Hearts • Don't Laze Me, Bro • Don't Let the Bass Drop • Bad Penny • Zombozo-Land • Forgeti • Max to the Max • Cutting Corners • Need for Speed • Xingo • Scared Silly • Omni-Tricked: Part 1 • Omni-Tricked: Part 2 • Omni-Tricked: Part 3 • Omni-Tricked: Part 4 |
| Season 2 | Out to Launch • Battle at Biggie Box • Bon Voyage • Mayhem in Mascot • Screamcatcher • Creature Feature • Bomzobo Lives • Animorphosis • Assault on Pancake Palace • High Stress Express • The 11th Alien: Part 1 • The 11th Alien: Part 2 • Half-Sies • Xingo's Back • Bounty Ball • Fear The Fogg • Super-Villain Team-Up • Can I Keep It? • Chicken Nuggets of Wisdom • All Koiled Up • King Koil • The Charm Offensive • Double Hex • Ye Olde Laser Duel • Ben Again and Again • Vote Zombozo • Drone On • Safari Sa'Bad • The Nature of Things • The Sound and the Furry • Reststop Roustabout • That's The Stuff • The Feels • Past Aliens Present • Dreamtime • Innervasion Part 1: Message in a Boxcar • Innervasion Part 2: Call the Dream Police • Innervasion Part 3: Strange Bedfellows • Innervasion Part 4: Mind Over Alien Matter • Innervasion Part 5: High Override |
| Season 3 | Omni-Copped • This One Goes to 11 • Rath of Con • Poles Apart • Show Don't Tell • Welcome to Zombozo-Zone! • Bridge Out • Beach Heads • Charm School's Out • Billy Bajillions • Franken-Fight • Buggin' the Buggs • Which Watch • Baby Buktu • Them's Fightin' Words! • Mutiny for the Bounty • The Chupaca-bro • Buggy Out • Introducing Kevin 11 • Four by Four • Moor Fogg • King of the Castle • Speechless on the Seine • Don't Touch • Big in Japan • Cyber Slammers • Big Ben 10 • LaGrange Muraille • Lickety Split • The Claws of the Cat • Roundabout: Part 1 • Roundabout: Part 2 • Cirque-Us • Forever Road • The Bentathlon • Prey or Play • Beware the Scare-Crow • The Night Ben Tennyson Came to Town • And Xingo Was His Name-O • Fear in the Family |
| Season 3 Extra | Xingo Nation • Heads of the Family • My Bodyguard • Wheels of Fortune • Heat of the Moment • Vin Diagram • A Sticky Situation • What Rhymes with Omnitrix? • You Remind Me of Someone • Adrenaland Jr. • Steam Fight at the OK Corral • I Don't Like You |
| Season 4 | Chicken In Chichen Itza, Part 1: Pyramid Scheme • Chicken In Chichen Itza, Part 2: The Wages of Fear • Ben in Rome, Part 1: A Slice of Life • Ben in Rome, Part 2: The Bee's Knees • Gentle Ben • Funhouse • Summer Breakers • The Monsters in Your Head • Queen of Bees • Falls, Falls, Falls • The Greatest Lake • Mud on the Run • It's Story Time • Cosplay Day • Bottomless Ben • Tales from the Omnitrix • Party Poopers • Wind Some, Lose Some • Digital Quality • Tim Buk-tv • Tokyo Fun, Part 1: Big Bugg Bash • Tokyo Fun, Part 2: Slamming It Up • Growing Up Is Hard to Do • The Hex Factor • Sweet Tooth • Medieval Upheaval • Speed of Sound • Xingo's World • Tummy Ache • Players of the Lost Park • De-Fanged • Mock 10 • Rekoil • Buktu The Future |
| Season 4 Movie | Ben 10 Versus the Universe: The Movie |
| Season 5 Specials | Ben 10,010 • Ben Gen 10 • Alien X-Tinction |
| Specials | Crossover Nexus |
| | |
| --- | --- |
| Season 1 | Waterfilter • The Ring Leader • The Filth • Freaky Gwen Ben • Take 10 • Animo Farm • Clown College • Something I Ate • Rustbucket RIP • Ben 24hrs • Riding the Storm Out • The Clocktopus • Growing Pains • Shhh! • Brief Career of Lucky Girl • Adventures in Babysitting • Steam is the Word • Need for Speed • Cutting Corners • Don't Let the Bass Drop • Villain Time • Bright Lights, Black Hearts • Recipe for Disaster • All Wet • Story, Bored • Xingo • Drive You Crazy • Hole in 10 • The Beast Inside • Tomorrow Today • Forgeti • Scared Silly • Bad Penny • Max to the Max • Zombozo-Land • Don't Laze Me, Bro • Omni-Tricked: Part 1 • Omni-Tricked: Part 2 • Omni-Tricked: Part 3 • Omni-Tricked: Part 4 |
| Season 2 | Out to Launch • Can I Keep It? • Battle at Biggie Box • Bon Voyage • Mayhem in Mascot • Screamcatcher • Vote Zombozo • Animorphosis • The 11th Alien: Part 1 • The 11th Alien: Part 2 • High Stress Express • Creature Feature • Drone On • Safari Sa'Bad • The Nature of Things • Assault on Pancake Palace • Bomzobo Lives • The Sound and the Furry • King Koil • Reststop Roustabout • That's The Stuff • Half-Sies • Xingo's Back • Bounty Ball • Fear The Fogg • The Charm Offensive • Super-Villain Team-Up • The Feels • Chicken Nuggets of Wisdom • Past Aliens Present • Double Hex • Ye Olde Laser Duel • All Koiled Up • Ben Again and Again • Dreamtime • Innervasion Part 1: Message in a Boxcar • Innervasion Part 2: Call the Dream Police • Innervasion Part 3: Strange Bedfellows • Innervasion Part 4: Mind Over Alien Matter • Innervasion Part 5: High Override |
| Season 3 | Omni-Copped • This One Goes to 11 • Moor Fogg • Rath of Con • King of the Castle • Speechless on the Seine • Poles Apart • Show Don't Tell • Don't Touch • Big in Japan • Welcome to Zombozo-Zone! • Bridge Out • Cyber Slammers • Big Ben 10 • Beach Heads • LaGrange Muraille • Charm School's Out • Billy Bajillions • Franken-Fight • Buggin' the Buggs • Which Watch • Baby Buktu • Them's Fightin' Words! • Lickety Split • Mutiny for the Bounty • The Chupaca-bro • Buggy Out • Introducing Kevin 11 • Four by Four • Cirque-Us • Forever Road • The Bentathlon • Beware the Scare-Crow • And Xingo Was His Name-O • The Night Ben Tennyson Came to Town • The Claws of the Cat • Prey or Play • Fear in the Family • Roundabout: Part 1 • Roundabout: Part 2 |
| Season 3 Extra | Xingo Nation • Heads of the Family • My Bodyguard • Wheels of Fortune • Heat of the Moment • Vin Diagram • A Sticky Situation • What Rhymes with Omnitrix? • You Remind Me of Someone • Adrenaland Jr. • Steam Fight at the OK Corral • I Don't Like You |
| Season 4 | Summer Breakers • Gentle Ben • Funhouse • The Monsters in Your Head • Tokyo Fun, Part 1: Big Bugg Bash • Tokyo Fun, Part 2: Slamming It Up • Queen of Bees • Falls, Falls, Falls • The Greatest Lake • Mud on the Run • Chicken In Chichen Itza, Part 1: Pyramid Scheme • Chicken In Chichen Itza, Part 2: The Wages of Fear • It's Story Time • Cosplay Day • Tales from the Omnitrix • Bottomless Ben • Ben in Rome, Part 1: A Slice of Life • Ben in Rome, Part 2: The Bee's Knees • Party Poopers • Wind Some, Lose Some • Digital Quality • Tim Buk-tv • Growing Up Is Hard to Do • The Hex Factor • Sweet Tooth • Medieval Upheaval • Speed of Sound • Xingo's World • Tummy Ache • Players of the Lost Park • De-Fanged • Mock 10 • Rekoil • Buktu The Future |
| Season 4 Movie | Ben 10 Versus the Universe: The Movie |
| Season 5 Specials | Ben 10,010 • Ben Gen 10 • Alien X-Tinction |
| Specials | Crossover Nexus |