Wiki Targeted (Entertainment)
Play Sound
"
May Dagon curse you.
"

– Conduit Edwards' last words.[1]

Conduit Edwards was a businessman and the leader of the Flame Keepers' Circle. He used to recruit celebrities for his group to attract more people.
Appearance
Conduit Edwards is caucasian male with brown hair and gray eyes who is dressed in a black business suit.
In special occasions, he wears a red hooded robe with gold stripes.
Personality
Conduit Edwards is sadistic and ruthless man, who's leader of Flame Keepers' Circle. He shows no mercy, even he tried to kill Sir George, but it backfires after squire Winston took the blast and George murdered Edwards.
History
In The Flame Keepers' Circle, he believed that Vilgax was Dagon. He protected him at all costs.
In A Knight to Remember, Conduit Edwards took Vilgax to the Dagon's heart. When Vilgax touched the sword within the heart and returned to his normal form, Edwards realized he had been tricked. He and his men attempted to retaliate but Vilgax took them out with a shockwave launched from his right arm.
Conduit Edwards reappeared in The Beginning of the End. During the Coming of Dagon, Edwards tried to assassinate the Forever Knights leader Sir George, but his squire Winston took the fatal blow for George, killing himself. In vengeance for Winston, George stabbed Edwards through his stomach, killing him. As he dies, he tells Sir George his last words:"May Dagon curse you."
Powers and abilities
Like Esotericas, Edwards can move between dimensions and manipulate energy for offensive and defensive purposes.
Weaknesses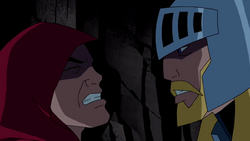 He is vulnerable towards Ascalon, as it was seen when George stabs him with it and Edwards died in matter of seconds.
Appearances
Ultimate Alien
Season 3
References