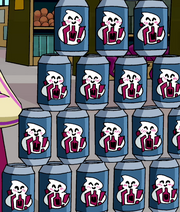 Canned Tiffin is a food that appears in Ben 10: Omniverse.[1]
As the name implies, it is an artificial, canned substitute of the actual Tiffin, which is the crown prince of Lewoda. It is sold at Mr. Baumann's alien market. It is also sold at an ice cream cone-like building in Undertown.
Appearances
Ben 10: Omniverse
Trivia
This and the real thing have a large demand in many systems.[2]
References