Ben 10 Ultimate Alien: Cosmic Destruction involves Ben traveling to iconic real-world locations in search of ancient Galvan artifacts to save the Earth from total destruction by a mysterious cosmic storm.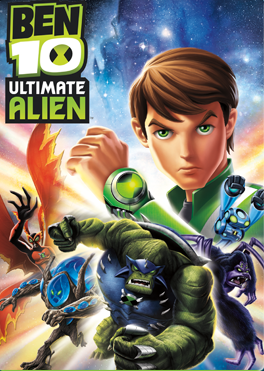 Gameplay
Ben 10 Ultimate Alien: Cosmic Destruction introduces new alien heroes Water Hazard , Armodrillo , AmpFibian, Terraspin, and NRG from the Ben 10: Ultimate Alien television series, allowing players to tunnel through enemies, unleash water blasts, emit radiation beams, shoot electricity bolts, fire wind attacks, and more, with a unique experience system lets them upgrade alien attributes and abilities. The game also provides all-new game enhancements such as Quick Switch, which allows players to switch alien forms faster than ever, and Quick Time Events which creates a cinematic experience that guides players through fierce boss battles and challenging puzzle elements. Players will control Ben and up to 10 alien heroes including Ultimate Big Chill, Ultimate Spidermonkey, Ultimate Echo Echo, Ultimate Swampfire, Ultimate Humungousaur, Four Arms (PS3), and Rath (X360) . It comes out on October 5, 2010.
Features
Take control of Ben and his new Ultimatrix to unlock powerful Ultimate versions of established aliens and wield the power of all new aliens.
Upgrade System allows players to enhance their favorite alien's skills.
Ultimate Events empower players to defeat level bosses through stylized cut-scenes and hard-hitting combat interactions.
Journey to iconic worldwide locales including Paris, Tokyo, Rome, China, Central America, and the mysterious Devil's Tower in the USA.
Completely authentic to the TV series using voice actors, sounds, and a new storyline by the original writers of the show.
New quick switch feature with can change you from form to form, without leaving the action.
All platforms(except the DS) also come with a bonus "Making of the Game" video, complete with developer and creator interviews, as well as an Art Gallery of concept artwork and sketches.
The Wii and DS versions will have a bonus poster packed into the game.
Confirmed Villains
Zombozo(Confirmed via screen shot(Tokyo)
Vulkanus(Confirmed via screenshot of Pick-Axe Minions and himself)
Forever Knights(Confirmed via screenshot of NRG fighting Forever Knights)
Havok Beast(Seen in Ben 10 Ultimate Alien Cosmic Destruction Trailer after you hear NRG; he is the red thing NRG is fighting)
Joey in Rusia
Wigsilian Beast
Non-Playable Characters
'Playable Characters'
Aliens
Exclusives
External Links
Gallery
Community content is available under
CC-BY-SA
unless otherwise noted.