Wiki Targeted (Entertainment)
Play Sound
Animorphosis is the forty-eighth episode of Ben 10.
Synopsis
As the Tennyson trio dig up dinosaur fossils in the Badlands, Ben is unaware that Vilgax and Dr. Animo have teamed up to steal alien DNA from within the Omnitrix.
Plot
Animo's Alphas begin fighting, annoying Animo. He questions how can he realize his scientific visions, without more powerful DNA. Soon Vilgax walks in. He startles Animo, and throws a few drones on the Alphas' heads. Animo questions who he is, and what did he do to his Alphas. Vilgax tells him that he gave them what Animo could not, discipline and purpose. Vilgax tells him he can build him a device capable of sharing his genetic engineering gifts with the world, as long as he helps get access to one of the most powerful genetic material in the universe - The Omnitrix.
At a dinosaur fossil dig site, Ben, Gwen, and a bunch of other kids run out searching for fossils. Gwen finds a fossil, but discovers that it is fake. Ben snatches the bone from Gwen, and runs off. Max looks at them happy to to see them "working together". Gwen tackles Ben and takes the bone. She walks away and trips over something. She notices it's a real fossil. She believes if she turns it in to the museum, she could get rewarded. Ben leaves to go find his own fossils.
Ben arrives at a random location. He prepares to dial up Diamondhead, but Animo's Alphas land in. Ben sees them, questioning if they're back for another beat down. He attempts to transform into Heatblast, but is thrown by Madcow. He then tries to transform into Wildvine. The Alphas manage to put ben down. Ben questions when did they get so coordinated. He states that four against one is unfair. Then Animo steps in disagreeing, stating that they both know Ben has 10 aliens to back him up. Ben insults Animo and Animo gets mad, but Vilgax steps in telling him to focus on the task at hand. Ben is surprised at Animo working with Vilgax.
Animo uses his DNA gun and collects all the DNA from Ben's Omnitrix. Animo questions why he didn't think to do this sooner in excitement. Vilgax tells him he didn't and he did, however Animo claims that without his expertise in DNA manipulation, the secrets of the Omnitrix would remain just secrets. Vilgax demands Animo's alphas to bring him the gun. Animo is confused, and thrown near Tennyson. Vilgax leaves the alphas with Animo and Ben, while he goes to the lab.
Ben tells Animo to hit his watch. Animo transforms Ben into Omni-Enhanced Stinkfly. Animo demands Ben to take out the mind control units on their necks. Stinkfly shoots his goo and misses, however the goo tracks the target. The mind control units are then taken out. Ben saves Animo from almost getting eaten by Wolfen Sheep. Stinkfly drops Animo off on a skinny mountain, freaking him out. Stinkfly tells Animo that he needs to stay put while he goes to stop Vilgax from whatever he's planning. Animo then convinces Ben to let him come with. Ben questions how does he know that Animo isn't trying to trick him. Animo states that Vilgax is his enemy too, since he double crossed him. They shake hands, and Ben times out. Animo demands Ben to take him to the lab, however they have to wait about five minutes.
Later, Omni-Enhanced Overflow flies Animo over to the lab. They manage to sneak in without being caught. Vilgax takes the DNA tube out of Animo's DNA gun. He then throws the gun away. Animo gets mad at him for throwing the gun. Overflow tells Animo to forget the gun. Animo states that the gun is the key, and with it he can disable Vilgax's DNA cannon. Overflow goes to distract Vilgax. He shoots water at some of his drones, and the rest of Vilgax's drones begins to fire. Vilgax steps in and attacks Overflow, holding him, leaving him unable to attack. Animo calls out, revealing that he retrieved the gun. Vilgax states that he's an old man, and even weaker than Ben. Animo admits that he is right, and uses his DNA gun on himself. He begins transforming. After a painful transformation, Animo transforms into Rath.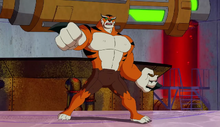 Animo attacks Vilgax. Vilgax throws Overflow to the side and begins fighting Animo. Overflow jumps in and shoots Vilgax with his electrified water. He then does it again, telling Animo to duck. Vilgax bumps into the DNA canon, and with the help of Overflow's water, the weapon begins to explode. Animo yells out telling them that the canon will destroy them all. Overflow and Animo manages to escape. Overflow believes that they work surprisingly well together, however Animo still despises him. Vilgax emerges from under the rubble, revealing to have survived the lab explosion. Vilgax states that he should've never wasted his time with a human, and a mistake that he'll never make again. Vilgax escapes using his drones, and Overflow is disappointed that Vilgax is on the loose again. Animo states that there is one upside to this day. Overflow questions what, and Animo claims that it's the day that he finally gets to destroy his rival. Animo picks him up and slams him on the ground, and Ben times out. Right before Animo prepares to end Ben, he reverts back to human. Ben laughs at Animo, he now knows how it feels to "time out".
Later, Ben arrives back a the dig site, seeing Max and Gwen eat cookies.
Noteworthy Events
Minor Events
Animo encounters Vilgax for the first time.
Ben and Dr. Animo team up for the first time.
Omnitrix Alien Debuts
Characters
Villains
Aliens Used
By Ben
By Dr. Animo
Cast
Quotes

Dr. Animo: Who are you? What have you done to my alphas?
Vilgax: I am Vilgax, Conqueror of Worlds. And I've given your alphas what you could not -- discipline and purpose.
Dr. Animo: Well, you can't just barge in here and --
Vilgax: I can build you a device capable of sharing your genetic engineering gifts with the world. In return, you will help me get access to the most powerful genetic material in the universe.
Dr. Animo: Tennyson?




Ben: Come on! Four against one is so far from fair!
Dr. Animo: Oh, I disagree, Tennyson. You and I both know that you've got 10 other aliens to back you up.
Ben: Euggh, I thought I smelled a moldy scientist.
Dr. Animo: Moldy?!
Vilgax: He's trying to provoke you, Doctor. Let's focus o the task at hand.
Ben: Vilgax?! You guys are working together? (Animo uses DNA gun). (Ben Whimpers).
Dr. Animo: Yes! It's working! (Laughs evilly).
Ben: What's working?!
Dr. Animo: I am collecting all the incredible alien DNA from your watch. Why didn't I think to do this sooner?!
Vilgax: You didn't! I did.
Dr. Animo: Well, without my expertise in DNA manipulation, the secrets of the Omnitrix would remain just that -- secrets.
Vilgax: Yet, without my leadership, human, you are no better than Tennyson. Now, bring me the gun.
Dr. Animo: What?! Who do you think you -- Huh? My alphas? What -- What are you doing?! Stop! You nincompoops, I created you! Ow! Aah! Ugh!
Vilgax: These creatures, when commanded by the right leader, aren't so useless after all.




Vilgax: I don't need any more hindrances, child. That fool Animo was more than enough for one day.
Dr. Animo: Aha! How does it feel to be double-crossed?
Vilgax: You're nothing but and old man -- even weaker than this changeling.
Dr. Animo Ohhh! You're right. Let's see what we can do to change that! (Injects DNA into his body using DNA gun)



| | | |
| --- | --- | --- |
| | Dr. Animo (as Rath): Let me tell you something: All this time I have been experimenting on animals when I should have just cut to the chase! There's only room for one ruler of this planet, Vilgax! | |

Vilgax: Even with your new form, you're nothing more but a pest. (gets shocked)
Overflow: Pest #2, reporting for duty.




Overflow: Animo, duck!
Dr. Animo (as Rath): Actually, I think I'm more of a tiger.



Naming and Translations
| Language | Name | Origin |
| --- | --- | --- |
| Spanish (HA) | Animórfosis | Animorphosis |
Trivia
While transforming into and from Rath, Animo temporarily shows characteristics from the following aliens (in no particular order, and some more than once): XLR8, Grey Matter, Cannonbolt, Stinkfly, Diamondhead, Heatblast, Wildvine, Gax, Four Arms, and Overflow.
References
Ben 10 Episodes
| | |
| --- | --- |
| Season 1 | Waterfilter • The Ring Leader • The Filth • Freaky Gwen Ben • Take 10 • Animo Farm • Clown College • Something I Ate • Rustbucket RIP • Ben 24hrs • Riding the Storm Out • The Clocktopus • Growing Pains • Shhh! • Brief Career of Lucky Girl • Adventures in Babysitting • Steam is the Word • Need for Speed • Cutting Corners • Don't Let the Bass Drop • Villain Time • Bright Lights, Black Hearts • Recipe for Disaster • All Wet • Story, Bored • Xingo • Drive You Crazy • Hole in 10 • The Beast Inside • Tomorrow Today • Forgeti • Scared Silly • Bad Penny • Max to the Max • Zombozo-Land • Don't Laze Me, Bro • Omni-Tricked: Part 1 • Omni-Tricked: Part 2 • Omni-Tricked: Part 3 • Omni-Tricked: Part 4 |
| Season 2 | Out to Launch • Can I Keep It? • Battle at Biggie Box • Bon Voyage • Mayhem in Mascot • Screamcatcher • Vote Zombozo • Animorphosis • The 11th Alien: Part 1 • The 11th Alien: Part 2 • High Stress Express • Creature Feature • Drone On • Safari Sa'Bad • The Nature of Things • Assault on Pancake Palace • Bomzobo Lives • The Sound and the Furry • King Koil • Reststop Roustabout • That's The Stuff • Half-Sies • Xingo's Back • Bounty Ball • Fear The Fogg • The Charm Offensive • Super-Villain Team-Up • The Feels • Chicken Nuggets of Wisdom • Past Aliens Present • Double Hex • Ye Olde Laser Duel • All Koiled Up • Ben Again and Again • Dreamtime • Innervasion Part 1: Message in a Boxcar • Innervasion Part 2: Call the Dream Police • Innervasion Part 3: Strange Bedfellows • Innervasion Part 4: Mind Over Alien Matter • Innervasion Part 5: High Override |
| Season 3 | Omni-Copped • This One Goes to 11 • Moor Fogg • Rath of Con • King of the Castle • Speechless on the Seine • Poles Apart • Show Don't Tell • Don't Touch • Big in Japan • Welcome to Zombozo-Zone! • Bridge Out • Cyber Slammers • Big Ben 10 • Beach Heads • LaGrange Muraille • Charm School's Out • Billy Bajillions • Franken-Fight • Buggin' the Buggs • Which Watch • Baby Buktu • Them's Fightin' Words! • Lickety Split • Mutiny for the Bounty • The Chupaca-bro • Buggy Out • Introducing Kevin 11 • Four by Four • Cirque-Us • Forever Road • The Bentathlon • Beware the Scare-Crow • And Xingo Was His Name-O • The Night Ben Tennyson Came to Town • The Claws of the Cat • Prey or Play • Fear in the Family • Roundabout: Part 1 • Roundabout: Part 2 |
| Season 3 Extra | Xingo Nation • Heads of the Family • My Bodyguard • Wheels of Fortune • Heat of the Moment • Vin Diagram • A Sticky Situation • What Rhymes with Omnitrix? • You Remind Me of Someone • Adrenaland Jr. • Steam Fight at the OK Corral • I Don't Like You |
| Season 4 | Summer Breakers • Gentle Ben • Funhouse • The Monsters in Your Head • Tokyo Fun, Part 1: Big Bugg Bash • Tokyo Fun, Part 2: Slamming It Up • Queen of Bees • Falls, Falls, Falls • The Greatest Lake • Mud on the Run • Chicken In Chichen Itza, Part 1: Pyramid Scheme • Chicken In Chichen Itza, Part 2: The Wages of Fear • It's Story Time • Cosplay Day • Tales from the Omnitrix • Bottomless Ben • Ben in Rome, Part 1: A Slice of Life • Ben in Rome, Part 2: The Bee's Knees • Party Poopers • Wind Some, Lose Some • Digital Quality • Tim Buk-tv • Growing Up Is Hard to Do • The Hex Factor • Sweet Tooth • Medieval Upheaval • Speed of Sound • Xingo's World • Tummy Ache • Players of the Lost Park • De-Fanged • Mock 10 • Rekoil • Buktu The Future |
| Season 4 Movie | Ben 10 Versus the Universe: The Movie |
| Season 5 Specials | Ben 10,010 • Ben Gen 10 • Alien X-Tinction |
| Specials | Crossover Nexus |
| | |
| --- | --- |
| Season 1 | The Filth • Waterfilter• The Ring Leader • Riding the Storm Out • The Clocktopus • Take 10 • Growing Pains • Shhh! • Brief Career of Lucky Girl • Animo Farm • Clown College • Adventures in Babysitting • Something I Ate • Steam is the Word • The Beast Inside • All Wet • Villain Time • Drive You Crazy • Tomorrow Today • Story, Bored • Hole in 10 • Recipe for Disaster • Rustbucket RIP • Freaky Gwen Ben • Ben 24hrs • Bright Lights, Black Hearts • Don't Laze Me, Bro • Don't Let the Bass Drop • Bad Penny • Zombozo-Land • Forgeti • Max to the Max • Cutting Corners • Need for Speed • Xingo • Scared Silly • Omni-Tricked: Part 1 • Omni-Tricked: Part 2 • Omni-Tricked: Part 3 • Omni-Tricked: Part 4 |
| Season 2 | Out to Launch • Battle at Biggie Box • Bon Voyage • Mayhem in Mascot • Screamcatcher • Creature Feature • Bomzobo Lives • Animorphosis • Assault on Pancake Palace • High Stress Express • The 11th Alien: Part 1 • The 11th Alien: Part 2 • Half-Sies • Xingo's Back • Bounty Ball • Fear The Fogg • Super-Villain Team-Up • Can I Keep It? • Chicken Nuggets of Wisdom • All Koiled Up • King Koil • The Charm Offensive • Double Hex • Ye Olde Laser Duel • Ben Again and Again • Vote Zombozo • Drone On • Safari Sa'Bad • The Nature of Things • The Sound and the Furry • Reststop Roustabout • That's The Stuff • The Feels • Past Aliens Present • Dreamtime • Innervasion Part 1: Message in a Boxcar • Innervasion Part 2: Call the Dream Police • Innervasion Part 3: Strange Bedfellows • Innervasion Part 4: Mind Over Alien Matter • Innervasion Part 5: High Override |
| Season 3 | Omni-Copped • This One Goes to 11 • Rath of Con • Poles Apart • Show Don't Tell • Welcome to Zombozo-Zone! • Bridge Out • Beach Heads • Charm School's Out • Billy Bajillions • Franken-Fight • Buggin' the Buggs • Which Watch • Baby Buktu • Them's Fightin' Words! • Mutiny for the Bounty • The Chupaca-bro • Buggy Out • Introducing Kevin 11 • Four by Four • Moor Fogg • King of the Castle • Speechless on the Seine • Don't Touch • Big in Japan • Cyber Slammers • Big Ben 10 • LaGrange Muraille • Lickety Split • The Claws of the Cat • Roundabout: Part 1 • Roundabout: Part 2 • Cirque-Us • Forever Road • The Bentathlon • Prey or Play • Beware the Scare-Crow • The Night Ben Tennyson Came to Town • And Xingo Was His Name-O • Fear in the Family |
| Season 3 Extra | Xingo Nation • Heads of the Family • My Bodyguard • Wheels of Fortune • Heat of the Moment • Vin Diagram • A Sticky Situation • What Rhymes with Omnitrix? • You Remind Me of Someone • Adrenaland Jr. • Steam Fight at the OK Corral • I Don't Like You |
| Season 4 | Chicken In Chichen Itza, Part 1: Pyramid Scheme • Chicken In Chichen Itza, Part 2: The Wages of Fear • Ben in Rome, Part 1: A Slice of Life • Ben in Rome, Part 2: The Bee's Knees • Gentle Ben • Funhouse • Summer Breakers • The Monsters in Your Head • Queen of Bees • Falls, Falls, Falls • The Greatest Lake • Mud on the Run • It's Story Time • Cosplay Day • Bottomless Ben • Tales from the Omnitrix • Party Poopers • Wind Some, Lose Some • Digital Quality • Tim Buk-tv • Tokyo Fun, Part 1: Big Bugg Bash • Tokyo Fun, Part 2: Slamming It Up • Growing Up Is Hard to Do • The Hex Factor • Sweet Tooth • Medieval Upheaval • Speed of Sound • Xingo's World • Tummy Ache • Players of the Lost Park • De-Fanged • Mock 10 • Rekoil • Buktu The Future |
| Season 4 Movie | Ben 10 Versus the Universe: The Movie |
| Season 5 Specials | Ben 10,010 • Ben Gen 10 • Alien X-Tinction |
| Specials | Crossover Nexus |