Doctor Strange in The Multiverse o Madness - The Loop
Play Sound
This article belongs to the

Classic Continuity
"
Not only is Amber Ogia our food, it also serves as fuel for our lamps, flares, vehicles. We grind it into grain.
They [the silos storing Amber Ogia] are not that big when you consider that they hold a year's supply of food, fuel and material goods for the surrounding farms.
Amber Ogia can feed a space fleet, clothe it, fuel it.
"
Amber Ogia is a sweet fruit that is only found on Revonnah.[DJW 1]
Amber Ogia grows in the cleavages of rocks. Its juice, if spilled, attracts Muroids.
Appearance
The Amber Ogia berry is a coconut-sized, amber-hued fruit that tastes like papaya with a core of honey.[DJW 2]
Uses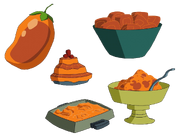 Amber Ogia fills multiple roles in Revonnahgander life and culture. The berries are harvested once a year, during a nine-day-long harvest festival. The berries provide them with food, clothing, and even the fuel that powers their world, making Revonnah one of the few truly independent and self-sustaining planets in the galaxy-and a target for invaders wishing to exploit its unique resource.[OV Brief 1][OV Brief 2]
Harvested Ogia is arguably the Revonnahganders most invaluable resource, all but essential for the planet's day to day life cycle, from the regular necessities of society such as sustenance and commerce to the very building materials used by the community once properly processed.
These exotic berries can be used to empower entire armadas that can invade the wider cosmos.
Amber Ogia was used by Dr. Psychobos to create a concentrate used to hypnotize the Revonnahganders to harvest the Amber Ogia to create more concentrate.[2]
Amber Ogia can be used to make medicine.[DJW 3]
History
Attempts to cultivate Amber Ogia off-world - even on artificial planets specifically constructed for that purpose - yield only a sickly and inferior version of the original plant. The reason for this is unknown.
Appearances
Omniverse
Season 2
Season 3
Season 6
Naming and Translations
Language
Name
Origin
Polish
Amber Ogia
Portuguese (Br)
Ogia Ambar
From Ogia Ambar, Ogia Amber
Romanian
Chihlirodia
From "chihli-" (chihlimbar), amber and "rodie", pomergranate
Russian
Янтароголд
From янтар, amber and голд, gold
Spanish (HA)
Ogia Ambar
Ambar Ogia (since While You Were Away)
From Ogia Ambar, Ogia Amber
From Ambar Ogia, original English name
Etymology
The Word 'Amber Ogia' comes from Amber which is a hard translucent fossilized resin originating from extinct coniferous trees of the Tertiary period, typically yellowish in color.
The word 'Ogia' comes from the term 'logia'.
The term logia (Greek: λόγια), plural of logion (Greek: λόγιον), is used variously in ancient writings and modern scholarship in reference to communications of divine origin.
References
Omniverse Series Master Brief