This article contains information on
of the franchise and is non-canon
Alien Unlock 2 is an online Ben 10 game and the sequel of Alien Unlock.
Playable Characters
Powers and Abilities
Attack 1: Hitting the enemy with his claws.
Attack 2: He jumps slightly and he will headbutt the enemy.
Special Attack: Jump medium high and stomp the floor, with yellow light.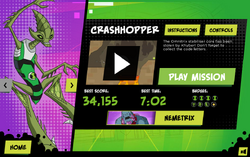 Attack 1: Spitting slime to the enemy.
Attack 2: Stops in the air but not damage the enemy.
Special Attack: Shoots a long wave of sludge.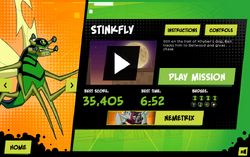 Attack 1: Shoots long range plasma ball from his mouth in straight line.
Attack 2: Shoots short range plasma ball from his mouth but his attack goes up.
Special Attack: Creates a big plasma ball and he can easily kill an enemy if walk over it.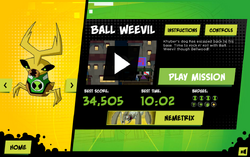 Attack 1: Punch the enemy with a powerful punch.
Attack 2: Use his drill arms.
Special Attack: Uses his drill arms and grows spikes when it hits the floor.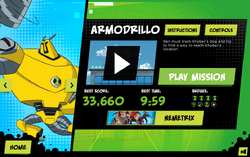 Attack 1: Powerful punch to the enemy.
Attack 2: Stomp the floor.
Special Attack: Slide down.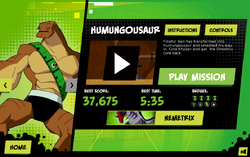 Villains
Nemetrix Transformations
Errors
Before transforming into aliens, Ben doesn't have a "10" on his t-shirt.
On Ball Weevil's mission, Zed was much smaller than her normal size.
Part of Crashhopper's costume is white.
Ball Weevil's size is larger than his regular size.
Humungousaur's body is smaller. And his eyes are brown instead of green.
Armodrillo's horns are shorter.
Khyber's eyes are black.
 Trivia
Community content is available under
CC-BY-SA
unless otherwise noted.